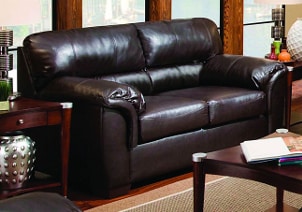 Keeping furniture clean can be a monotonous task, but it is also a very important one. Clean furniture wears less and lasts longer. Keeping each piece of furniture free of dust, dirt and grime will improve the look and feel of your home immensely. Various materials require different types of care for the best possible results.
Cleaning Furniture:

Wood: Cleaning wood furniture can be tricky. In general, try to avoid wetting the furniture. This is especially important in the case of lacquered furniture, which can become cloudy when wet. In most cases, regular dusting will keep wood furniture clean. Use a soft paintbrush to get into small cracks, crevices and engravings. If you use a furniture polish, make sure that it is specifically formulated for wood. Wax furniture polish can give your wood furniture a nice finish. If you notice a buildup of excess furniture polish, a small amount of vinegar and water should help to clear it up.

Wicker: Wicker furniture requires a humid environment to stay in the best possible shape. Dust the entire piece with a soft brush attachment on your vacuum. To clean wicker furniture, mix detergent and water in a small bucket until suds form on the surface of the water. Use the suds only to clean the furniture, working on one small area at a time. Wipe the suds off with a slightly damp sponge.

Fabric: Most sofas and chairs are upholstered. These pieces should be vacuumed with a soft brush attachment on a regular basis. However, upholstered furniture also requires a more thorough cleaning from time to time. If you have a removable cover on the furniture, cleaning it is as simple as removing the furniture cover and putting it in the washer. If you do not have this type of cover, apply upholstery shampoo with an upholstery brush over the entire piece. Allow the furniture to dry completely before using it again.

Leather: Leather furniture should be dusted and vacuumed with a soft brush attachment on a regular basis. Clean leather using a damp cloth dipped in soap flakes. Wring the cloth out so that it is barely damp. Then, run the cloth over the surface of the furniture. Dry the leather with a dry, soft cloth. Leather furniture should be replenished occasionally using a professional leather conditioning product. Check your manufacturer's instructions for more detailed care information as leather can vary from one type to the next.

Buy Furniture
Back to Guides Directory