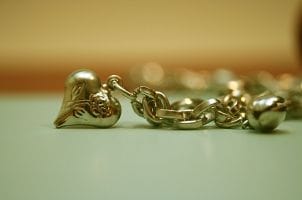 Accessorizing with gold charms is one of the best ways to wear your personality. These little symbolic baubles can adorn charm bracelets, charm necklaces, purses and even electronics to tell a story or represent your interests or personal beliefs. You can purchase gold charms with an animal theme to show your support for endangered species, flower charms to symbolize your gardening passion or gold charms with a sport's theme to showcase your athletic side. Use these trinkets to create distinctive gold jewelry or to personalize a handbag.
Accessorizing with Gold Charms:

On a bracelet: Use gold charms to create a one-of-a-kind bracelet. Chain bracelets are available in many sizes and styles. As a general rule, larger charms look better on a thick chain, and smaller baubles look attractive on thin chains. Use a thick chain to support heavier charms. When you are decorating your charm bracelet, consider your personal style and create a piece of jewelry that you will want to wear all the time. Group smaller charms together or spread out the gold charms evenly for charm jewelry that is cute and comfortable.

On a necklace: Charm necklaces are wonderful for showcasing your little gold jewelry pieces. Choose a gold chain that complements your personal style and decorate your necklace with as many charms as you like. Consider grouping pieces to create special sentiments. Use initial charms to remind you of someone exceptional or personalize your necklace with your name. A lot of charms will give your necklace a festive look, while a few charms in one group will give the necklace a subtler style.

On a purse or bag: Gold charms are perfect for adding style and sparkle to a handbag. You can hook one charm onto the zipper or create a string of charms to hang from a buckle. Travel luggage is perfectly personalized with initial charms, and gold charms on backpacks let you sparkle and shine at school, the library and the coffee shop.

Buy Gold Charms
Back to Guides Directory