Best Wall Art for Your Home
by Lindsay Wilcox
Dress up a bare corner or add a pop of color to a room when you buy wall art for your home. Whether you want modern wall art to make a statement in your living room or simple, decorative wall art in your child's bedroom, the following suggestions will help you create a stunning art gallery throughout your home. Read on for tips on finding the best wall art.
Choosing Wall Art: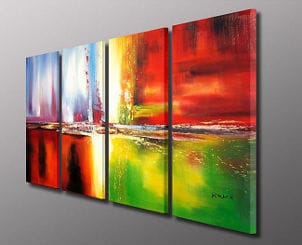 Shop Art Gallery ▸
Buy art that fits the style and function of each room.

Bold, sculptural wrought-iron wall art would look completely out of place in a child's bedroom, but rustic wooden wall art would be equally inappropriate hanging in a formal dining room. In order to create a pleasing design, you'll want to hang decorative wall art that complements each room's decor and purpose. For example, wrought-iron wall art could balance an old-fashioned living room rather than a bedroom, and wooden wall art that features floral or harvest patterns would add texture to a country-themed kitchen. Make sure you have a little fun with your decor pieces, however, especially in an entryway. Abstract wall art can instantly brighten up any space.

Find wall art that fits the mood you want to convey.

If you want your home to reflect your love of eclectic pieces and bright colors, modern wall art will be an excellent choice for your living room or entryway. These rooms are among the first views guests will get of your home, so you'll want to choose modern wall art with bold geometric prints and vivid shades to make a powerful statement. On the other hand, you'll want to hang pretty canvas wall art in a dining room or hallway if you want to create a more peaceful environment. Look for canvas wall art that features landscapes or floral scenes to give your home a laid-back, relaxed vibe. Vinyl wall art, especially quotes or simple scroll designs, can give your living room, bedroom or hallway a whimsical feel, too.

Purchase wall art that fits your lifestyle and family interests.

Decorating your home with delicate metal wall art may not be practical if you have young children or frequently have family members over to visit. However, you can always hang your favorite metal wall art in your bedroom until your children grow older when you're set on certain decorations. If you want durable, easy-to-remove decor, buy vinyl wall art you can affix to any wall. These decals are often structured, architectural designs, but you can also buy abstract wall art decals with bold patterns and a mixture of colors to complement an on-the-go lifestyle.