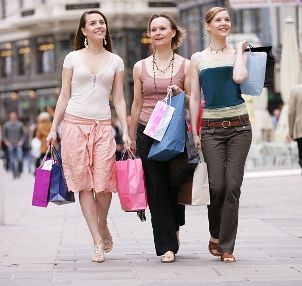 When traveling, one of the most essential things to pack is a good pair of walking shoes. Whether you plan to head out to the trails in a mountainous region or want to walk around a major city for dining and attractions, the types of women's shoes you wear will determine how comfortable you are and, ultimately, how much you enjoy walking around and sightseeing.
The Best Walking Shoes:

Invest in a good pair of hiking boots. If you are heading to the mountains or plan on participating in a nature hike, the ideal footwear is hiking boots. If hiking is going to be minimal, a low-intensity pair that features a good tread and fits like regular shoes is suitable. Are you planning on a day hike or more intense trail hiking? Look for hiking boots with support around the ankle for inclines and declines common on trails. Women's hiking boots should also have a bulky tread to prevent you from slipping or sliding on a gravel or grassy surface. Be sure to use women's hiking boots before wearing them for hours on a hike to make sure they will not rub or cause blisters on your feet.

Find dressy walking shoes for the city. Walking around a city is an ideal way to see what life there is like for a resident. Walking shoes do not have to be entirely athletic or bulky-looking, however. Dressy women's walking shoes offer you the versatility of dressing to go to a restaurant but provide the comfort and durability for long walks. Also known as "weekend" shoes, dressy women's walking shoes feature mild tread to prevent slipping and are water-resistant. They are crafted from suede or leather materials and come in slip-on or lace-up styles. If you have limited space in your suitcase, these shoes work both for walking around for long periods of time and for going to more formal occasions.

Pack walking sandals for a warm vacation. For more tropical destinations, a sturdy pair of sandals is ideal for walking in sand or areas with water. Walking sandals can also protect your feet when you're going into an outdoor shower by the ocean or shared bathing utilities. Look for women's sandals with arch support, straps to keep them on the foot and shock-absorbing soles for comfort. These sandals often come in leather, suede or canvas and have a rubber sole and a cork or latex foot lining. Many women's sandals are also appropriate to pair with outfits for dinner or for just strolling around the city.

Buy Women's Shoes
Back to Guides Directory