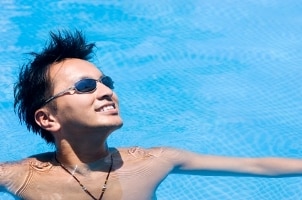 When you invest in a nice piece of jewelry, you want to know that you will get plenty of use out of it. Men's necklaces are available in many different styles, but which men's necklaces and men's pendants will be the best choices for your individual collection? Each man is different, and choosing men's jewelry is very personal. A few pieces of men's jewelry can help you start building a comprehensive necklace collection. Start with these pieces of jewelry for men and add necklaces and pendants that will personalize your jewelry wardrobe.
Men's Necklaces for Every Collection:

Leather: Leather has been in fashion for centuries, and it is not likely to lose its appeal anytime soon. Leather jewelry for men can be found in many varieties; consider men's leather necklaces for their versatility, masculinity and durability. Men's braided leather necklaces are especially popular, and these pieces of jewelry offer a very natural tribal vibe. Leather necklaces can be worn with jeans, slacks or suits.

Silver tone: While yellow gold is a great material for special occasion jewelry and wedding bands, silver-tone men's necklaces are generally more versatile. Silver-tone jewelry also offers a casual vibe, which means you can wear it with many different outfits. White gold, sterling silver, platinum, tungsten, titanium and stainless steel all offer the desirable silver tone. White gold and platinum are precious metals because of their rarity; precious metals are perfect for fine jewelry with diamonds and gemstones. Sterling silver is also a precious metal, but because it is more abundant, it is generally less expensive than white gold and platinum. Sterling silver does tarnish, so a high-quality jewelry cleaner is a good investment if you choose a lot of sterling silver necklaces. Titanium, stainless steel and tungsten are industrial metals and are new to the jewelry world. The industrial metals are perfect for men's necklaces because they are durable and masculine.

Pendants: Once you have invested in a high-quality platinum chain or a handsome braided leather cord, you will want to consider adding pendants to your collection. Men's pendants allow you to personalize your necklace collection and display your personal interests. Versatile dog tags are very common and offer many different designs. Religions pendants are common in men's jewelry, as are all-natural handmade pendants.

Buy Men's Necklaces
Back to Guides Directory