Best Valances for Living Room Windows
by Lindsay Wilcox
Dress up the curtains in your living room windows when you buy elegant valances for your home. Whether you want to cover up unsightly hardware above your windows or just add a special touch to your drapes, window valances are a great way to make your living room more polished. With many valance styles available, however, you may be wondering which will work well in your home. This guide provides you with information about the best valances for living room windows.
Selecting Living Room Valances: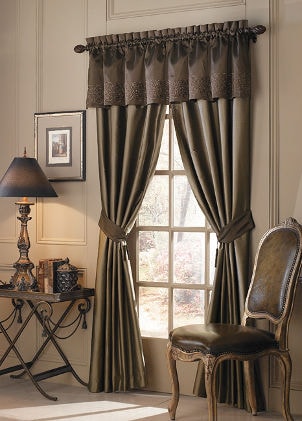 Shop Valances ▸
Look at scarf valances for simple window treatments.

If you're looking for an effortless way to add texture and elegance to your living room, buy a scarf valance that matches or contrasts with your curtains. These simple window valances can be draped over the existing rod in one graceful loop or create a scalloped effect when wrapped around the rod two or three times. A sheer scarf valance can be hung alone over your window or layered with another scarf valance when you want to combine colors. You can also find these curtain valances in pleated fabrics for a more formal living room. Knot the sides of your scarf valances to give them a different look; this method also works well if you're afraid these valance styles will slide off the curtain rod.

Consider buying balloon valances to add an interesting style.

When you want to add uniquely shaped curtain valances to your living room, think about purchasing balloon valances. With their distinctive rounded edges and full appearance, these valance designs can complement existing drapes or hang alone over thin horizontal window blinds. Balloon valances work particularly well in bay windows, because they emphasize the concave shape of the window and cover the curtain hardware fully. You can also create a vintage look by hanging balloon valances over paned windows and skip the curtains altogether.

Buy swag valances for a classic look in your living room.

Complement your curtains with traditional swag valances that hang gracefully from the curtain rod. These valance designs are made to drape across the top of the window with the tails falling against the sides. Though swag valances are very similar to scarf valances, they are made of thicker material and usually have a more polished, smooth design than scarf valances do.