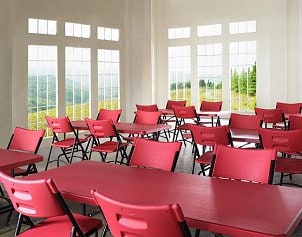 While you may think of folding chairs as mass items used only for wedding receptions and conferences, folding chairs are actually very useful items to have around your home, apartment or office. Folding chairs are reasonably comfortable, they're quick to set up and they tuck away unobtrusively when you've finished using them. If you've never considered having folding chairs around your home, you may be surprised at how useful they can be. Keep reading for some ideas about how you can make use of folding chairs in your life.
Folding Chair Uses:

Use a folding chair for seating in a dorm or studio apartment. Students and city-dwellers have long known that the key to making the most of a small living space is using items that tuck away or double as something else when they aren't in use, like futon sofas. This principle makes folding chairs perfect for dorms and studio apartments. When guests come over or you want to sit at a table, you can pull out a few metal folding chairs or padded folding chairs for you and your guests. When guests leave or you no longer need to sit at the table, those same chairs can fold up to slip behind a piece of furniture or stand out of the way against the wall. A folding table and chairs is also a good way to make the most of the space you have.

Keep a folding chair in your office for extra seating. Usually you don't need more than a couple chairs in your office. However, when you do have an extra client or colleague that comes to visit, it can be awkward for three of you to be sitting and one or two people standing. A folding chair or two that tucks behind your door when not in use is a simple solution to this problem. If you're worried about how a folding chair would affect the look of your office, you don't need to worry. Folding chairs come in a wide range of different styles and finishes, from simple grey metal folding chairs to elegant wooden folding chairs or classy black and chrome folding chairs.

Take a folding chair camping. Enjoying a toasty campfire or an evening sunset in the great outdoors is hard to beat, but it's even better if you don't have to sit in the dirt or on a knotty log. Folding chairs are compact, durable and comfortable, and they can make a camping trip more enjoyable. Simple metal folding chairs work well on camping trips, but you can also find lawn chairs and folding camping chairs that are well-suited to being used in the outdoors. If you have enough space in your vehicle, consider bringing along a folding table and chairs for extra luxury.

Buy Folding Chairs
Back to Guides Directory