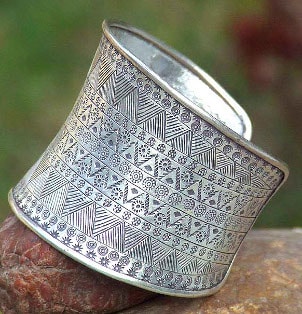 You've showered, dried your hair, put on makeup and dressed in one of your well-worn suits or pairs of jeans. And now you realize that you look just like you did yesterday and all last week. How can you feel more creative and more like yourself when you have a dress code or a limited clothing budget? Consider accessorizing with a unique cuff bracelet. An unusual cuff bracelet is the perfect piece of jewelry because it can completely change your look. Cuffs and bangle bracelets are also affordable; you can add a cute and unconventional bangle bracelet to your jewelry box without stretching out your budget. Cuff jewelry and unique bracelets are available in a seemingly endless array of choices, so you can choose the bangles and cuffs that truly speak to you and show your personality to the world. Check out our picks for the best unusual cuff bracelets and bangles.
Cuff Bracelets for your Collection:

Handcuff yourself: If you are looking for cuff jewelry with an edge, consider a handcuff-inspired bracelet. Bangles shaped like handcuffs and embellished with rubber, leather and gems have a hip industrial vibe and leave people wondering about your tough and rebellious side. Single handcuff bracelets look like you broke free of the cuff's match, while double handcuff bracelets are layered on one wrist for a textured and unruly style.

Flex a bicep: Bicep bracelets have a romantic, ancient vibe, and they accentuate your hard-earned muscle. Gold bicep bracelets are incredibly eye-catching and sexy. Wear a bicep bracelet with a masculine ribbed tank or soften the look with a fluttery spring top.

Get thick: Thick cuff bracelets are different from other types of jewelry; they add a great slab of metal, wood or plastic to your arm and command attention. Thick cuff bracelets with gemstone embellishments or wild colors and designs quickly add flash to anything you wear.

Celebrate symbolism: A cuff bracelet is like a big canvas. Bangles and cuffs have room for etchings and designs incorporating symbols, shapes and words. Celebrate your religion, family heritage or personal triumphs with a cuff bracelet. Bangles with symbols and special meanings also make very personal and special gifts.

Embrace critters: There are many places you don't want to find crawly critters, but your jewelry box is the perfect place for them. Cuff bracelets with ladybugs, spiders, butterflies and bees are whimsical and interesting. Wear an insect bangle with your favorite jeans or a long skirt.

Be unbalanced: Jewelry is often symmetrical and traditional, but many of these styles are boring. Off-centered and unbalanced bangles can be much more fun. Consider a bracelet made of gold or copper and woven into a strange and interesting shape. Cuffs with off-center gemstones and swirling shapes are artistic and unusual.

Go back to your roots: Bracelets made of materials found in nature, such as wood, shells or gold-covered twigs, add a very earth-centered and bohemian style to an outfit. Pearls, rocks and metal embellishments are also common in nature-themed cuff bracelets and bangles. Wear a painted wooden bangle with a flowing white dress or slouchy safari pants.

Buy Cuff Bracelets
Back to Guides Directory