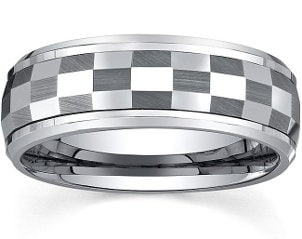 A collection of unique jewelry will keep you feeling trendy and interesting when you start to feel like you wear the same thing every day. The end of a long hot or cold season has you donning the same pair of boots or shorts that you seem to have worn a million times this year, but fashion jewelry can be worn anytime to add style to anything in your wardrobe. Tungsten rings offer innovative and hip fashions in a durable piece of jewelry. Tungsten rings are popular choices for wedding bands, but fashion tungsten rings are also available. Fashion rings are great for both men and women, and tungsten jewelry also makes a nice, contemporary jewelry gift. Consider these favorites when shopping for fashion tungsten rings.
Buying Fashion Tungsten Rings:

Inlaid details: Fashion tungsten rings often have inlaid details. These details may include braided stainless steel cables, leather cords or gold sculptures. Many tungsten rings also have gemstone decorations. Fashion rings with inlaid details are popular because they are innovative and unique. This type of fashion jewelry can add texture and detail to any casual or workday outfit.

Laser etching: Tungsten jewelry is very durable and scratch-resistant, but it can be etched and engraved with laser tools. Laser etching offers precise details, giving rings a very clean and contemporary style. Consider tungsten rings with tribal designs, Celtic knots and geometric patterns.

Colors: Tungsten jewelry can be plated with zirconium to change the color. Black tungsten rings are very popular in fashion jewelry. Blue, red, gold and pink tungsten rings are also fun. Zirconium can be laser-engraved to reveal the gunmetal shade under the brightly colored zirconium layer. Many tungsten rings feature multiple colors to cater to your diverse and bright wardrobe. Collect fashion tungsten rings in a variety of hues.

Spinner: Spinner rings feature two separate parts that move independently of one another. A tungsten spinner ring will have a top piece that moves and a base piece that stays stationary. Spinner tungsten fashion rings make really fun gifts. The spinning piece is often decorated with etchings, colors or inlaid details.

Buy Tungsten Rings
Back to Guides Directory