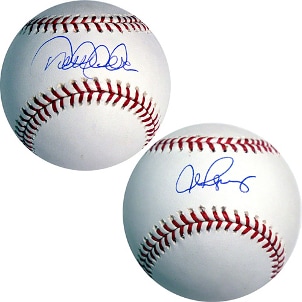 Every sports fan should have some sports memorabilia hanging from a wall or filling out a display case. And when it comes time to start, or add to, your collection of sports memorabilia, remember that a little variety goes a long way. So check out all the ways you can show your support for your favorite athletes and teams.
The Best Sports Memorabilia:

Sports trading cards: Football, basketball and baseball cards are very popular collector's items among children and adults. And not only are sports cards valuable; they also offer a nostalgic feel that can be hard to duplicate in many other sports collectibles.

Sports plaques: Sports plaques are great ways to commemorate a season, event, player or sports team. Plaques will usually feature a large picture, but they often combine this with other sports memorabilia to create a more interesting display. Sports cards are common additions to plaques, as well as ticket stubs or game programs. Sports plaques work well hanging in a recreation room or a child's bedroom.

Jerseys: Sports jerseys are unique pieces of sports memorabilia because they can be collected and displayed just like most sports memorabilia, but they can also serve a more functional role when worn to display your team pride. Collectible jerseys are available in authentic and replica versions to fit everyone's desires and budget.

Balls: Baseballs, basketballs and footballs all make excellent choices as sports memorabilia. Whether it is an autographed football or an authentic home run ball from a game you were at, every sports ball tells a story. And they look impressive inside display cases.

Other sports gear: Sports memorabilia like helmets and gloves can be hard to come by, but that is one of the reasons it is such a great choice. Besides rarity, the depth and texture an old leather baseball glove provides among a collection of two dimensional trading cards and pictures is unmatched.

Buy Sports Memorabilia
Back to Guides Directory