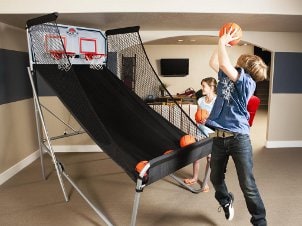 Taking the time to play games together as a family strengthens family relationships and helps create fun and happy memories. Involve your family and choose from a wide selection of games and puzzles to play. It doesn't matter if you have small children, teenagers or grown children, you'll still find the perfect game. Below is a list of the best types of games to play as a family.
Best Family Games:

Board games. Board games are the most popular types of games for families. With board games, you're always sure to find something for family members of all ages and skill levels. Most board games are able to accommodate four or more players which makes it easy to include everyone on game night. Some board games take a few minutes to play while others can take hours. Finding a board game to fit your family's needs is easy.

Card games. Most card games are easy to learn and there are many options to choose from. Popular card games include Hearts, Go Fish and Spoons. A card game may have several different versions of one card game with variations on the rules. This makes it easy to learn a specific card game and then try the next difficult version with a better chance of winning. Pick the version that best suits your family's age range and skill level.

Puzzles. Puzzles are an excellent way to spend family time together. Some puzzles take minutes while others may take several hours or days to put together. Over time puzzles, have evolved from flat two-dimensional pictures to three-dimensional shaped puzzles. Challenge yourself and your family with puzzles ranging from 500 pieces to 5000. Spend an evening together putting together a simple puzzle and strengthen your family bond.

Electronic games. Electronic games range from handheld devices to video games to large indoor score-keeping sports games. Go one-on-one with a member of your family or form teams for a little friendly competition. Electronic games easily keep score for you, so if you need to take a break, simply hit "pause" and come back to finish your game at a later time.

Outdoor games and sports. From simple games for children, like tag and red rover, to a more challenging sports game for teenagers and adults, like football or basketball, your family is sure to love the great outdoors when paired with an exciting game or two. Spend some time in the sun and play a few games or try out a new sport together as a family and look back fondly on those memories in the years to come.

Buy Games and Puzzles
Back to Guides Directory