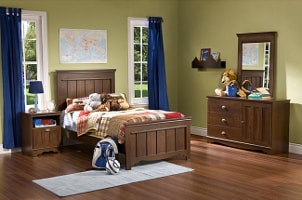 When it's time to update your kids' furniture, you have several important decisions to make. Taking the time to do your research on the different kinds of kids' furniture will help you make the best choice in the long run. By having all the right kind of information, you'll be able to pick the best types of children's furniture for your child's bedroom.
Best Children's Furniture:

Table and chair set. In a world of larger-than-life furniture, a child's table and chair set provides furniture that is custom-built for your child's size. He won't need a booster seat to reach the tabletop while he's playing and you won't have to worry about him falling from a tall chair. Table and chair sets are perfect for meal time, arts and crafts and play time.

Storage furniture. This type of children's furniture works two ways. First of all, its hide-away baskets and drawers offer extra storage in order to keep toys and games put away and off the floor. Once they're put away, their chances of being damaged are greatly diminished. Your daughter's room will stay clean and organized effortlessly. Secondly, fashionable storage furniture, such as chests or armoires, adds to the overall look and feel of a child's room. You win both ways.

Bookcase. Adding a bookcase to a child's bedroom is a smart move. You'll help to foster a love of reading and learning. Make sure his favorite books are within easy reach. In addition to stocking the bookcase with books, he can also proudly display awards and trophies he collects over the years.

Bean bag chairs. Bean bag chairs are great because they come in bright and fun colors, are casual and easy to move around. A bean bag chair is a perfect place for kids to sit quietly and read. It can also act as a bed for a spontaneous nap.

Beds. A bed might not seem like a special piece of furniture, but this can become the focal point of your child's bedroom. You have the power to personalize your child's bedroom with a bed designed to fit her specific needs. A toddler bed is perfect for a child that has just graduated from a crib, but is too small for a twin bed. If you have several children, you may want to consider buying bunk beds.

Buy Kids' Furniture
Back to Guides Directory