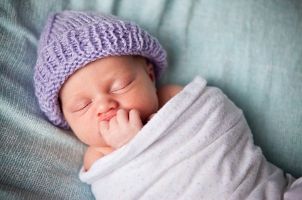 When your new baby snuggles up to go to sleep, you want to make sure that he is comfortable, safe and warm. Choose baby blankets that meet all your and your baby's needs and you'll have no doubt that your baby is sleeping soundly. Baby blankets come in a seemingly endless array of choices, and each baby bedding item has a purpose. Blankets also make great baby gifts, and many types are available to choose from, from baby receiving blankets to baby quilts. Let us help you choose baby bedding with our information about different types of baby blankets.
Best Baby Blankets:

Receiving blankets: Baby receiving blankets are thin, soft blankets that can easily be wrapped around an infant for warmth and comfort. You can layer a receiving blanket over whatever your infant is wearing and also use it with other blankets if needed. Receiving blankets are handy baby items that can soothe your baby and keep him comfortable as he is passed from your loving relatives to your caring friends. Consider placing one or two receiving blankets in a baby gift basket with other baby items.

Baby quilts: Quilting is an age-old tradition, and baby quilts are some of the very best keepsakes. You can make a quilt for your child, grandchild or niece or purchase a baby quilt already assembled. When you are shopping for baby quilts, consider design and color schemes and choose a quilt that will match other nursery accessories. A personalized quilt is especially treasured, and you can embroider a quilt at home or have it personalized professionally.

Crib bedding: Even before you first heard your child's heartbeat, you probably pictured his sweet little nursery. Crib bedding can help you to create a nursery that will live up to your expectations. There are many different types of crib bedding available, including crib sheets, blankets and crib bedding sets. Choose crib bedding that will be stylish, comfortable and safe.

Novelty: Novelty baby blankets are fun to give as gifts to babies of all ages. Many baby blankets are attached to soft toys or created in fun shapes. Novelty baby blankets are fun for infants and toddlers alike and are perfect for traveling and naps. Some baby blankets also convert into pillows; these blankets are perfect for older children and will be treasured for years.

Designer: Many designers are getting in on the baby game. When you are shopping for baby blankets, you might want to choose something special and unique, especially if you are buying a baby gift. Designer blankets are available in many different styles and colors and add a touch of luxury to a baby nursery.

Blanket cakes: If you are looking for a fun baby gift, consider buying a blanket cake. Blanket cakes are baby blankets that are folded into a cake and are perfect for baby showers and hospital visits. Many blanket cakes also include pillows and toys, and you can add additional items to round out the gift if desired.

Buy Baby Blankets
Back to Guides Directory