Best TV Stand for Your Flat-screen TV
by Staff Writer
You've upgraded to a new flat screen TV, but now, you're not sure which TV stand you want to put it on. You want to be true to your decorating style, but you need to consider function, too. If you follow these tips, you can find the best TV stand for your flat screen TV and balance your personal aesthetic with your lifestyle.
TV Stands for Every Lifestyle: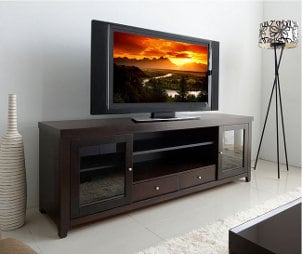 Buy TV Stands ▸
Movie night is a regular occurrence at your house.

If your television is most often used for watching the latest blockbusters with the family or your favorite comedies with friends, then you need room in your TV stand for DVD storage and places for your surround sound speakers to sit. The best TV stand for your home will have enough shelves for your components. It should also have shelves with doors or a few drawers to store your movie collection. If you have speakers that will sit on the TV stand, make sure to measure the length of your TV plus the speakers; some TV stands are only wide enough for the television alone.

You need lots of room to get up and move when you play video games.

The latest video game systems have lots of games that encourage dancing and moving around, and if you love to play these games -- either by yourself or with a crowd -- you need plenty of space to kick up your heels. Look for a TV stand that has a narrow profile. Measure the depth of your TV (including any wires or cords that may protrude from the back) to see what the minimum size could be for your TV stand and shop with those dimensions in mind.

It's not "autumn"; it's "season premiere time."

If you plan your schedule around your favorite TV shows, then you want to make sure your television has a place of honor in your living room. Look for a TV stand with doors to conceal all your components, so nothing can distract you from your favorite entertainment.

Somebody is playing a sport somewhere, and you want to watch.

Whether you're inviting everyone over to watch the big football game or you're spending a lazy afternoon watching golf, you want to make sure you can see all the action. More than style, you'll want to consider the height of the TV stand, making sure that the center of the TV screen is at eye level when you're sitting on your favorite chair. Get out a measuring tape and see where that spot will be before you make your selection.

The TV is just for watching public television on the weekends.

If television viewing isn't a priority at your house and you'd rather not even see the TV most of the time, then look for a TV stand that also acts as a bookshelf or art display area. Hang art around the TV so it blends in with the frames. You could also use a corner TV stand to keep the television out of the way.