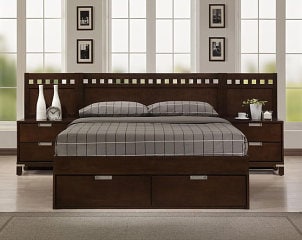 Whether you need to fit many things in a small space or just want to be more efficient, storage beds make it easy to find a place for everything. They're a useful option for any home, but they're especially good for small homes and apartments, where storage space is scarce. But before you pack it full of odds and ends, consider these tips to make sure you use the space wisely.
Best Storage Bed Uses:

Store extra bedding: Extra bedding can come in handy when unexpected visitors show up or when you need a quick change, but it can be hard to find places to store all those linens. A messy linen closet isn't an efficient way to keep it all. You can save space and trouble by storing your extra bedding in the drawers and compartments of your storage bed. The drawers will make it much easier to organize folded sheets and blankets in stacks than on shelves, and they'll be close at hand when they're needed.

Replace your dresser: Some storage beds, especially platform storage beds, are high enough to provide a good number of drawers. Use them to eliminate the need for a dresser in a particularly small room. Your clothes will be close without taking up any more floor space. On tough mornings, you could even get fully dressed without ever leaving your bed. However, you might want to keep that to yourself.

Group your accessories together: If you're going to use your storage bed in addition to your closet and dresser, make sure to choose one type of thing that you'll store all together. One good choice is a group of accessories that you have a lot of. It could be shoes, scarves, or hats. Make sure to keep all of that one kind of accessory in one place, so you'll never have to hunt around for something when you're trying to get ready.

Keep personal items: The drawers in storage beds are a perfect place to store a journal, diary, book you like to read before going to bed, or treasured photo albums. Before you go to bed, or at any time of the day, you can easily pull your personal items out of your drawer. Turn at least one drawer near the top of the bed into your favorite by filling it with items with highly personal or sentimental value.

Stash out-of-season items: If you have all your clothing crammed into your closet and dresser, relieve the pressure a few times a year by moving the clothing and shoes you're not currently using into the drawers of your bed. You'll have so much more room for your winter coat if you move your shorts, sandals, and beachwear out of the closet during the winter months. When you make the seasonal switch, you can use that opportunity to edit your wardrobe, too.
What Do You Want to Do Next?

Shop for Storage Beds
Shop for Platform Beds
Shop All Beds
See All Guides
Read More Furniture Guides
Learn More about Bedroom Furniture