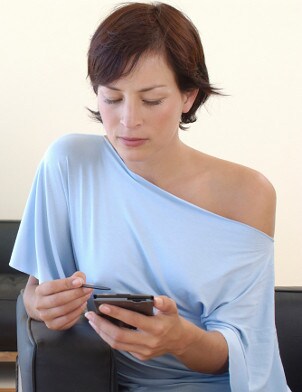 The features available on PDAs have grown by leaps and bounds from just day-planner software and note-taking capabilities. PDA cell phones, or "smartphones," have a wide range of useful features and applications for business, communication and entertainment. When you're looking at PDA cell phones, consider what you want your PDA or cell phone to do, and then look for a handheld PDA with features that fit your preferences. Here are some of the best things to look for in PDAs to give as a gift or purchase for your own use.
Shopping for PDAs:

GPS navigation: Instead of buying a hand-held GPS to get directions, look for PDAs with GPS capability. You may be required to pay a subscription fee to use that feature on your phone, but other PDAs will offer GPS capability without any fees.

Digital camera: Many cell phones and PDAs feature built-in digital cameras. If you want to be able to take photos and share them with family, friends and colleagues via text message and email, look for PDAs with a digital camera. PDAs with high-megapixel cameras will take higher resolution photos.

Voice recording: One great PDA feature is the ability to record voice memos. If equipped, your PDA will use its phone microphone to record voice data for later playback. You can even label your voice memos and set your PDA to remind you to check them at a later time.

Memory expansion slots: All of those features can take up a lot of memory on your PDA. Because of this, PDAs often have expansion slots for memory cards or SD cards, allowing you to expand PDA memory to anywhere from a few megabytes to a few gigabytes.

Wireless capability: You can easily send emails and instant messages, watch video or stream music over the Internet with wireless-capable PDAs. You may need to sign up with your cell-phone carrier for a data plan to avoid excessive data charges; but most carriers offer unlimited plans, so you can upload and download as much as you want for a monthly fee.

Downloadable applications: Depending on your PDA's operating system, you may be able to download and install applications on your PDA for a multitude of functions. There are applications for just about anything, from using your PDA for video-conferencing to playing games.

Buy Cell Phones
Back to Guides Directory