Best Things to Know about Cheap Computers
by Staff Writer

You don't have to spend a lot of money to have computers that fits your needs and lifestyle. You may be surprised to learn that there are a good number of cheap computers with plenty of computing power and features. While you may not always get all the latest features with cheap computers, you may find that many of those features go unused by the average computer user. Here are some things you might not know about cheap computers that will help you get a great deal on a computer that will still meet your needs.
Finding Cheap Computers: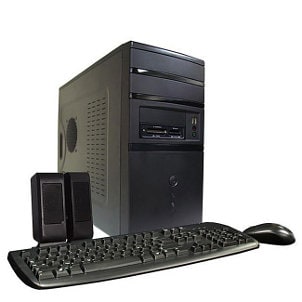 Shop Computers ▸
Motherboards can affect the price of your computer.

Complex motherboards that support multiple video cards, expansion upgrades and additional slots will carry a higher price tag. Cheap computers often have basic motherboards that only support limited upgrades. If you're not computer savvy, or you don't plan on upgrading computer components on your desktop computer, choose cheap computers with a simple motherboard and save.

Video cards may be a luxury you can do without.

A high-powered video card is often the most expensive component in a computer. Dedicated video cards use a lot of power and deal with large amounts of data in order to process advanced 3D effects. Laptop computers especially can also put out a lot of heat, and require a computer to have more cooling fans. On-board video cards lack advanced graphics features and utilize the computer's main resources to display video and other graphics. Buying cheap computers with an "integrated" graphics controller instead of a separate video card can reduce the computer price significantly. And for most functions, graphics on these cheap computers and laptops will work just fine.

Separate sound cards add to the cost.

Much like a video card, a sound card can either be dedicated or on-board. On-board sound cards are attached to the motherboard of the machine, and are usually much cheaper than a separate sound card. If you just want to listen to music and system sounds with headphones or cheap computer speakers, you probably won't notice a difference in sound quality and you'll save more on the cost of your computer.

Choose a smaller power supply.

While an advanced gaming system might use well over a thousand watts of power, cheap computers will use only a fraction of that. Smaller power supplies are cheaper and they provide plenty of power to your computer components. Cheap computers use cheaper components like these.

Hard-drive disk speed.

Hard drive's can have a lot of space, but what really affects the price is how fast they are. Hard-drive speeds are measured in revolutions per minute (RPM), which is the speed at which the disk within a hard drive spins. Cheap computers will have a lower hard drive RPM. You probably won't notice a difference in performance unless you use your desktop do video editing or disk-intensive file copying.