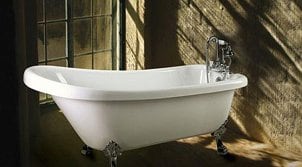 Out of all bathroom fixtures, the claw-foot tub is one of the most lavish. The claw-foot tub can add style and class to any bathroom while also dramatically increasing comfort. If you have a claw-foot bathtub or are considering investing in a claw tub for your home, you most likely have an idea of how much comfort these beautiful bathtubs can provide. If you want to make every bath special, look below to learn the best things to keep in a claw tub.
Things to Keep in a Claw-foot Tub:

Specialty soap: You'll definitely want to keep your luxurious bathtub stocked with soap, but don't stop at a basic bar. Indulging in designer or all-natural soaps will make every bath more relaxing and indulgent. Find a soap that's appropriate for your skin type, but focus on a soothing scent, as well. A fragrant soap that sets you at ease will help you turn your claw-foot bathtub into a calming retreat from the day. Lavender and chamomile soaps will prepare you for a restful sleep, while grapefruit and gardenia soaps will wake you up in the morning. Consider luxury soaps with shea butter, milk and aloe vera for your claw-foot tub.

Loofah or body sponge: Loofahs and body sponges will add to the spa-like atmosphere of your claw-foot tub. Sponges and loofahs allow you to clean and exfoliate while giving yourself an extraordinary massage, which can help you fully relax in your claw tub. If you have trouble reaching your back, consider a loofah brush.

Premium hair-care supplies: Shampoo and conditioner are musts for any bathroom, but if you really want to add comfort to your claw-foot tub, splurge on premium hair-care products. Washing your hair with quality, aromatic shampoo and conditioner will allow you to truly kick back in your claw-foot tub.

Bath pillow: If you're looking to relax in your claw-foot tub, a bath pillow is essential. Bath pillows allow you to rest your head comfortably while stretching out. You'll be surprised by how comfortable your claw-foot bathtub will be with a bath pillow.

Luxury lotions: Applying lotion right after getting out of your claw-foot tub will help keep your skin soft all day long. Choose luxuriously scented lotions and you'll be able to take a fabulous scent with you throughout the day or evening. Keep luxury lotions near your claw-foot tub to make moisturizing simple.

Buy Claw-foot Tubs
Back to Guides Directory