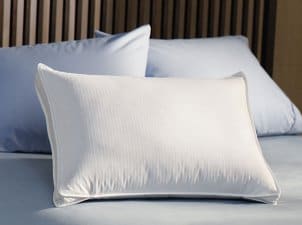 A quality pillow is crucial to healthy sleep. Because every sleeper is unique, their pillows have to be as well. If you're constantly waking up with a sore neck or shoulders, your pillow may be to blame. There are a number of things you should think about before selecting a new pillow. Take a look below for the best things to consider when buying a pillow.
Buying a Pillow:

Sleeping position: One of the most important things to consider when buying bed pillows is the position in which you tend to sleep. A flatter pillow is usually good for back sleepers, while a firmer, raised pillow is good for side sleepers. If you suffer from back problems, a specialized memory foam pillow can work wonders no matter which position you sleep in.

Sizes: The three most popular sizes of pillows are standard, queen and king. Standard pillows measure 20 inches by 26 inches, queen pillows are 20 inches x 30 inches and king pillows are 20 inches x 36 inches. Be aware that most bedding companies only make pillowcases for standard and king pillows. Fortunately, standard pillowcases usually fit queen pillows.

Fill: The fill inside your pillow will make the biggest difference as to how comfortable it is and how it holds up over time. Most bed pillows are filled with some kind of foam or down. Foam pillows can be found in various levels of firmness. They have great elasticity and don't sag. A good foam pillow will hold up for two or three years.

Firmness: If you want firmness without elasticity, down pillows are the way to go. Down pillows can also be molded and fluffed for each new sleeping position. High-quality goose down pillows will hold up for almost a decade if well maintained. You can purchase allergen-blocking pillow covers if you're allergic to down. Memory foam pillows (often referred to as contour pillows) soften when they come in contact with heat. This means a memory foam pillow molds to the shape of your head and evenly distributes weight no matter what position you are in. Another benefit of contoured memory foam pillows is that they last much longer than other foam fill.

Buy Pillows
Back to Guides Directory