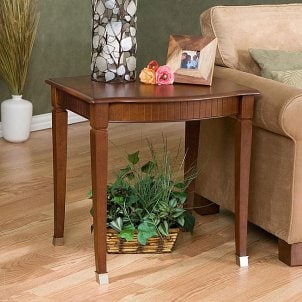 Let's face it: tables are more than just a kitchen item. Although dining tables are often the centerpiece and gathering place of the home, most people have several different kinds of tables scattered throughout their homes. If you are looking to beef up your home furniture, a few additional tables are a great way to start. You can enhance every room in your home with the large variety of tables available. Here are a few ideas to get you started.
Tables for Every Room:

Kitchen or dining room: No home is complete without a dining table. Dining tables are expected to last for a long period of time, so choosing one that will fit and adapt to your requirements is key. Consider tables that have leaves or drops you can use to extend the table size should the need arise.

Living room: The living room is a perfect room to place end tables on either end of your sofa. Make sure to pick up a few coasters to protect the surface of your end tables. End tables are also a great place to put reading materials or any type of room decoration.

Family room: Put a coffee table on a carpet between your sofa and television. You can lay out magazines, family albums or other reading materials for guests to peruse. Again, be sure to get coasters to protect the surface of coffee tables. Coffee tables can quickly transform a room from a place to sit and watch television into a gathering place for friends and family.

Bedroom: Placing end tables by your bedside is a great way to keep things close at hand. Place your glasses there when you go to bed or keep a book nearby. Depending on the size of your room, you can also place sofa tables against walls and decorate them with plants or other items.

Bathroom: Give your bathroom a comfortable atmosphere by adding an accent table to the room and putting out extra hand towels, lotions and a box of tissues.

Lounge or bar: Place drum tables with some coasters next to any recliners in the room. Modern glass cocktail tables will focus the room toward a gathering point and provide another surface for drinks and decoration.

Buy Coffee, Sofa and End Tables
Back to Guides Directory