Best Table Lamp for Your Bedroom
by Lindsay Wilcox
It's easy to brighten up your bedroom with a fresh new table lamp. Whether you want elegant bedside table lamps you can read by at night or traditional table lamps that add a classic feel to your room, the following suggestions will help you buy table lamps that fit your style and add the right amount of light to your space. Read on to find the best table lamp for your bedroom.
Buying a Bedroom Table Lamp: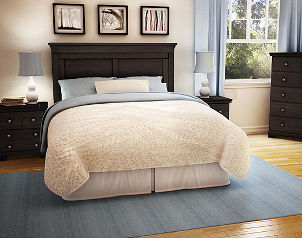 Shop Table Lamps ▸
Find a table lamp that will give you romantic lighting.

Your bedroom should have a relaxing, peaceful feeling, so you'll want to find bedside table lamps that provide a subtle glow, not harsh light. To achieve a romantic atmosphere, buy table lamps that have a translucent lamp shade; you can even find styles with round or dome-shaped shades when you want a more distinct look. Ceramic table lamps with cream-colored bases and sheer shades can also provide the subtle lighting you want.

Buy a table lamp that complements your bedroom's color.

While all of the elements in your bedroom don't need to match, you'll want to find a lamp that works well with the colors and patterns already in the room. Try metal table lamps made of stainless steel or chrome to complement cool shades, such as blue, lavender, mint green and grey. To balance warmer shades, such as yellow, red and orange, buy metal table lamps with brass or bronze finishes. You're not limited to metal lamps, either. If your bedroom features brown or taupe shades, why not buy a wood table lamp to add a similar color to your room? Look for a style with a mahogany base for a classic feel or buy a wood table lamp made of cedar or ash for a more vintage vibe.

Purchase a table lamp that fits the style of your bedroom.

Even though you may love the look of the glass table lamps in your entryway or living room, they might not work best in a bedroom with a laid-back style. Consider the furniture, accent pieces and size of the room before you buy a new lamp, even if you're sticking with traditional table lamps. You might find that ceramic table lamps look best in your bedroom because they complement your black-and-white photographs and polished furniture. If you're still set on glass table lamps but need styles that look more casual in your bedroom, buy lamps that feature clear glass bases and beige- or cream-colored shades. These colors will make the lamps stylish but neutral enough to blend with your decor.