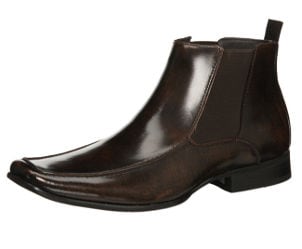 From dressy to casual, there are plenty of men's boots to go with various wardrobe options. Men's boots can be worn year-round, whether you're walking around in the cold or wearing dress boots for a night out. Some boots are even acceptable to wear to the office. Follow these tips to find boots appropriate for every occasion.
Men's Boot Styles:

Pick dress boots for formal occasions. When you're buying men's dress boots for a professional look, it may be tricky to determine which styles are appropriate for a suit, or even dress slacks. Look for men's leather boots with a thin sole. This will keep the shoe dressy and classic. Men's ankle boots go well with dress slacks or suits, and they feature side elastic to allow for an easy slip-on. To keep the body length proportional to the shoe, look for men's dress boots that have a longer toe box if you are tall.

Find durable winter boots. Men's winter boots are beneficial for a good portion of the year. Whether it is icy, wet or snowy, the type of boot you select will help keep your feet warm and dry. Look for men's winter boots that have insulation, such as fleece lining, and a rubber sole with thick tread for traction. Men's ankle boots constructed with waterproof leather and latex are also durable. If you want a style you can wear to the office, men's leather boots that extend slightly past the ankle keep feet dry from snow but do not appear overly rugged.

Look for nice casual boots. Men's casual boots look good with a variety of pants, including jeans, corduroys and khakis. Men's suede boots offer a casual alternative to leather boots, and the thin sole keeps them from overpowering the rest of the outfit. If you wear jeans most often, men's suede boots in a chukka style look great. Chukkas are ankle-length boots with two to four eyelets that lace up, and they often come in calfskin or suede, making them ideal men's casual boots.

Buy Men's Boots
Back to Guides Directory