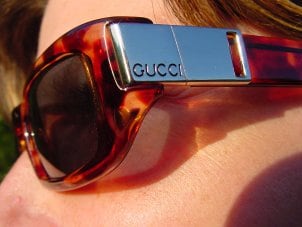 Soak up some sun with a chic pair of Gucci sunglasses. The well-known fashion brand Gucci features clothing, shoes, sunglasses and many other high-quality accessories. One of the most versatile accessories, women's sunglasses, protects your eyes and face from the sun and lends a fashionable touch to every outfit. No matter what face shape you have, there are lots of Gucci women's sunglasses from which to choose to keep you looking stylish.
Best Gucci Sunglasses:

Flatter a round face: If you have a round face, the most flattering styles of Gucci sunglasses are those that have rectangular frames to balance out the roundness of the cheekbones and jaw line. Choose sunglasses with dark frames that are as wide as your face to help elongate it. Another Gucci style that flatters a round face is a large frame with square lenses. Lenses with a brown or black gradient color look flattering on all facial types.

Soften a square face: If you have a prominent jaw line, chances are your face is square-shaped. The most flattering style of women's sunglasses to consider is rounded frames that extend widely over the face to balance out a strong jaw. Oval sunglasses also help to soften facial lines. Look for Gucci sunglasses with lenses that are narrow-framed, meaning they sit closer to the eyes.

Balance a heart-shaped face: Women who have a wide forehead and narrow chin often have a heart-shaped face. This facial shape may be trickier to shop for, because designer sunglasses need to balance out the entire face. Look for Gucci shades with light-colored frames and rimless styles for the most flattering look. A pair of chic Gucci sunglasses with a shield-style frame will hug close and smooth the contours of your face.

Open up an oval face: Women who have oval-shaped faces have the most versatility when selecting styles of designer sunglasses. Wraparound, square and rounded Gucci sunglasses all complement this facial structure. Those who have oblong faces should look for Gucci shades that bring focus to their eyes. This will help soften your face and give it a rounder shape. Decorative features on the sunglasses' temple will also draw attention to your eyes and give the effect of a wider face.

Buy Gucci Women's Sunglasses
Back to Guides Directory