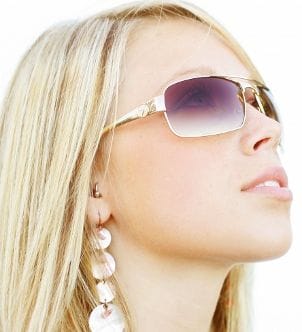 Classic and versatile, drop earrings may be paired with any wardrobe option to complete a look and add sparkle and shine. Drop earrings include a variety of style categories, including teardrop earrings, chandelier earrings and dangling earrings. Earrings with dangling gemstones, teardrops, charms and chandeliers go well with other jewelry selections and make great jewelry gifts. Choose teardrop earrings, dangling earrings, chandelier earrings and other drop earrings for your collection with our list of the best styles.
Drop Earring Styles:

Chandelier: Chandelier earrings are popular for many reasons, including their beauty, versatility and movement. They offer an extravagant style and come in many varieties. Chandelier earrings with diamonds set into gorgeous gold can hold their own paired with the most beautiful formal gown, while chandelier earrings with filigree silver patterns accent jeans in a unique way. Chandelier earrings of all kinds catch the light as they sway, drawing attention to a woman's face.

Teardrop: Teardrop earrings employ a simple teardrop or raindrop shape in a variety of unique ways. Some teardrop earrings are made out of one complete metal piece, such as sterling silver, and drop just below the earlobe. Other teardrop earrings showcase a beautiful gemstone on a long chain. Teardrop earrings can be dressy or casual, and they make great gifts.

Charms: Charm drop earrings are very trendy and whimsical. Charms are available in different shapes, colors and lengths and typically hang from hoop earrings or simple chains. Choose a pair of charm earrings with a cluster of heart-shaped gold charms or select charm earrings with long, silvery stars. Charm drop earrings go well with just about anything. Wear a pair of diamond charm earrings with a skirt and silk top to a nightclub or dress up navy trousers and a blazer for work.

Geometric: Geometric drop earrings are unique and edgy while still maintaining a level of elegance. Many styles are available, including unusually shaped hoop earrings, interlinking shape chains and unique clusters of diamonds or gemstones. Geometric drop earrings are incredibly versatile; wear geometric earrings whenever you want to indulge in jewelry that is unconventional.

Gemstone: Gemstone drop earrings can feature any gem variety in any setting. Choose a pair of earrings that incorporate your birthstone into a chandelier style or add elegant drop pearl earrings to your collection. Gemstone drop earrings are elegant and luxurious and come in many different price ranges.

Buy Dangling Earrings
Back to Guides Directory