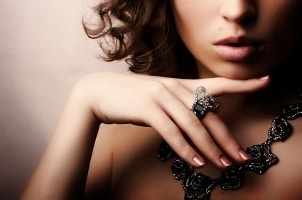 If you are looking for a unique piece of jewelry, then consider shopping antique jewelry. Antique jewelry and estate jewelry is beautiful, artistic and distinctive. Estate rings, vintage rings and antique rings are wonderful choices for romantic jewelry, and they add a very special touch to any outfit. You can wear antique rings daily for fun or dress up a formal outfit with a piece of vintage jewelry. Antique engagement rings, estate rings and other vintage jewelry is incredibly passionate, and antique rings are the perfect splurge on a special occasion or just because. Let us help you choose vintage rings and estate jewelry with our best styles in antique rings.
Collectable Antique Rings:

Cocktail rings: Many antique rings are large and ornate, making them the perfect cocktail ring choice. Wear vintage cocktail rings with your favorite frilly party dress or pair them with jeans and a cardigan. Cocktail rings are meant to be large and dramatic; keep other jewelry selections minimal and subtle when wearing estate cocktail rings.

Gemstone rings: Gemstones are a fabulous way to add opulence to an ensemble and antique gemstone rings often contain rare and beautiful gemstones in unconventional settings. Consider an antique sapphire ring with a platinum setting or a vintage ruby ring with a unique gold setting. Large gemstone rings make great cocktail rings and smaller ones are fun to wear every day.

Wedding rings and engagement rings: Antique wedding jewelry is incredibly romantic. If your girlfriend loves retro fashion and antique home furnishings, consider proposing with an antique engagement ring. If you want a wedding band that is unlike any other, consider estate wedding bands.

Artistic rings: Antique rings and estate rings offer unique trends and style. It can be difficult to find a truly artistic ring among today's mass-produced pieces. Antique rings reflect the styles of the time period in which they were designed, and many pieces of antique jewelry are fabulously unconventional. Consider adding a geometric art deco diamond ring to your collection or spoiling yourself with an oversized hand-sculpted floral cocktail ring.

Buy Estate Rings
Back to Guides Directory