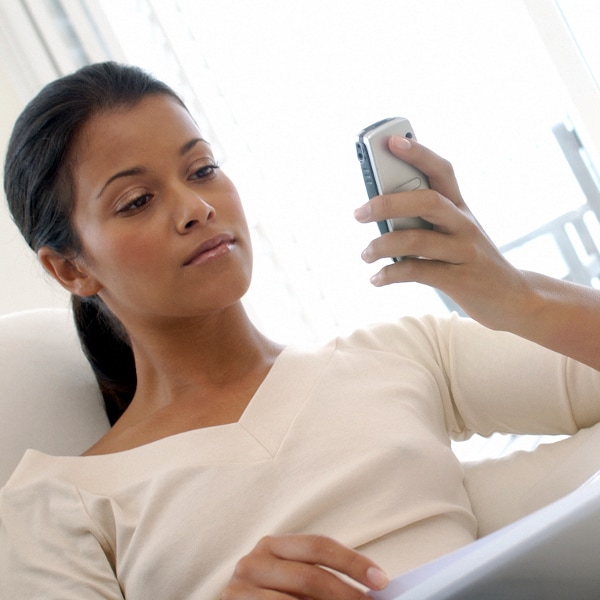 Best Smart Phones for Christmas 2014
This Christmas, keep your loved ones in constant contact with a new smart phone. Modern cell phones and smart phones provide quick access to music, social media, and countless great apps. The top smart phones this year will give you a large, high-resolution screen and a battery that can last through the day. Here are some of the best brands and models of smart phones everyone is asking for this Christmas.
Apple iPhones
The iPhone remains the top-selling smart phone on the market. Each new model of the iPhone, like the iPhone 6 and 6 Plus, brings the latest and greatest in both hardware and software. Get access to over a million apps in Apple's app store and get unique features such as iMessage and the free iCloud storage plan.
Samsung Galaxy & Note
After the Apple iPhone, the next most popular smart phones are the Samsung Galaxy S5 and Samsung Galaxy Note 3. Each has a huge screen and impressive camera that can take great photos. Samsung smart phones also have several wearable gadgets you can use with your phone. The new smart watch Galaxy Gear or Samsung Gear Fit fitness band will help you keep your phone in your pocket while you stay connected.
HTC One
The new HTC One M8 has a huge screen compared to the most popular smart phones. The HTC smart phone also provides a unique set of front-facing speakers that have an unbeatable sound. Similar to the Samsung Galaxy, the HTC is an Android-based device and will give you access to thousands of Android apps and games.
Nokia Lumina
With a 5-inch display, 1080p screen resolution, and 32GB of storage, the Nokia Lumia Icon is currently considered the best smart phone with a Windows operating system. Thanks to its 20 megapixel camera, the Lumia Icon also delivers crisp and clear photos. This is the Windows phone of choice for Verizon users.
Sony Xperia
With the new Sony Xperia Z3, you can take your photos and video to a whole new level. Shoot video with stunning 4K resolution and make edits on the go with a huge 5-inch screen and great editing software. It's even waterproof, so you can finally take smart phone photos underwater. The Z3 runs Google's mobile operating system, Android 4.4.2 KitKat.
LG Google Nexus 5
Partnered with Google, LG helped create the Nexus 5. Not only does this LG smart phone give you access to all of the great Google apps, but it is also has the Android 4.4, KitKat operating system, which gives you voice-activated control. The Nexus 5 has a 5-inch screen and is available with 16GB or 32GB of memory.
Smart Phone Buying Tips
Don't forget the accessories. Cute phone accessories, like colorful cases, are not just for looks. The right case and screen protector will help protect your phone from drops, scratches, or even water. Before you buy a smart phone for yourself or as a gift, make sure it will be compatible with your cell phone carrier. Unlocked cell phones offer greater flexibility and can work across multiple networks. If you have questions about unlocked phones be sure to read our guide about unlocked cell phones.
what shoppers are saying about smart phones at overstock™
Related product reviews

Great Phone Very Smart

My last two phones were HTC. The battery life was the worst. Samsung S4 Zoom has a great battery life, that'll last until it's time to recharge. The only bad part of it is the Zoom if kind of bulky and it's hard to find case for it. The best phone I've ever had! It is compatible with my hands free system with my Lancer!

Would you recommend this to a friend? YES

typical leather purse

VERIFIED PURCHASE

This purse runs small, is true to color and well made. The cell phone pocket is extremely out-dated for today's smart phones. I have enjoyed the purse thus far.

Would you recommend this to a friend? YES

Beautiful bag

VERIFIED PURCHASE

This is a very good quality bag that I've receive many compliments on, since receiving it. It's an excellent value for the money, and will last me for years. The dark brown color goes with anything, and it's very "solid" in feel, not flimsy at all. It's great for traveling, and has more than enough space to carry everything. There's even three front pockets, two of which are large enough to hold my three-inch smart phone. I'm very pleased with this product. I would definitely recommend this bag for a main purse.

Would you recommend this to a friend? YES

Cool retro phone

VERIFIED PURCHASE

Works great, no need to hold your mart phone for long calls just plug this handset into your smart phone and talk away. Way too kool for us older folks. Would recommend to anyone who struggles with those little phones trying to hear your conversations.

Would you recommend this to a friend? NO

Love this phone!!!!

VERIFIED PURCHASE

This phone is truly amazing! Most people think that they have to spend ** or more on a high quality smart phone but the low price and value of this phone proves otherwise! It has all the features I wanted and more. I've hardly put it down since it arrived. It's lightning fast (provided your carrier gets 3G service or higher) and the HD camera is so clear.

Would you recommend this to a friend? YES

Great for tablets & smart phones

VERIFIED PURCHASE

perfect price and size to keep in purse or wallets. The clip breaks easliy but for the price you can have a couple on hand. the tip is soft rubber and works well w/my smart phone, kindle and nook.

Would you recommend this to a friend? YES

SMOOTH TOUCH SMART PHONE

VERIFIED PURCHASE

CUTE PLAY PHONE. VERY EDUCATIONAL. A GREAT BUY!! THANK YOU!

Would you recommend this to a friend? YES

Very adaptable holder.

VERIFIED PURCHASE

I guess this product would be good for holding one of the large smart phone units. It seems a bit large for my use. I think it might work on the boat holding the depth finder. It will hold a fairly large electronic unit since it expands and very securely clamps it in place.

Would you recommend this to a friend? YES

Touch Me!

VERIFIED PURCHASE

The three Touch Screen Stylus are perfect for big fingered guys like me to use with your Smart Phone to send text messages. Since getting them I've sent more text messages in a week than I'd sent since getting the phone. They work really well. TLC

Would you recommend this to a friend? YES

White headboard looks great!

VERIFIED PURCHASE

Downsized from king size to double bed. Needed a new bookcase headboard to replace the king size one, and this little gem is perfect! Yes, it's made of MDF/particle board and the white is a laminate, but for a price like this you can't expect better. The instructions were clear, and I put the headboard together by myself in a little over an hour. (I'm a woman in my fifties with R.A.) No parts were missing, and everything fit together beautifully. Looks BEAUTIFUL! The only improvement I wish they had made to this headboard is that the solid back doesn't have any holes drilled for electrical cord access. If you put electronic items like a clock/radio or a smart phone dock in the bookcase part, there's no way to run any cords out of sight.

Would you recommend this to a friend? YES

Great product, works on all devices

VERIFIED PURCHASE

Good product, works on every smart device; Kindle Fire, iPhone, iPad, Samsung phone.

Would you recommend this to a friend? YES

Pretty in Pink

VERIFIED PURCHASE

My FIRST Smart phone; it was about time. I knew I need to protect it and this case seemed a good choice. It is very basic but not quite as durable as some I have seen. Still for the price it's fine for now and I was happy to have it as I already dropped the phone more than once, without incident. Lots of good deals on Overstock. I'm a faithful customer and have rarely had to return an item (maybe never?)

Would you recommend this to a friend? YES

Dissapointed with the phone pocket

VERIFIED PURCHASE

I like the backpack but in the picture it looks like it will fit a smart phone in the phone pocket. Unfortunately, it will only fit a small flip phone. Don't purchase if you were hoping to fit a smarphone in the phone pocket.

Would you recommend this to a friend? NO

I was thrilled when my Lg Env3 standard battery(oe

VERIFIED PURCHASE

I do not have a smart phone so am still using my 4 year old phone.The price was great and I am using it now since I received it. I am so glad you still carry this battery. My cell phone company no longer carries this item but suggested I contact you. Thank you so very much!

Would you recommend this to a friend? YES

Handy little table!

VERIFIED PURCHASE

My husband likes to sit in our study in the evening surrounded by necessary (clutterry) stuff - a box for bills, wires for I-Pad,smart phone, 2 laptops, magazines, books, etc. Now the 'stuff' has a home in this small table tucked by his leather chair. Looks rather nice, though it is a rough piece (not fine furniture) and would be small if used as a coffee table. Took 30 minutes to put together. Shipping was smooth, no broken or missung pieces.

Would you recommend this to a friend? YES

Too Small

VERIFIED PURCHASE

My smart phone barely fit in there so I end up just putting my cards without my phone in there.

Would you recommend this to a friend? NO

LIGHT, STURDY, NEUTRAL!

VERIFIED PURCHASE

If you are looking, as I was, for a bag that is lightweight, stylish, and capable of holding as much or as little as you need on any given day, this bag is for you! It's front-zip pocket is roomy to easily accommodate smart phone, pens, reading glasses, keys. The inner deep pocket works well w/my leather-covered tablet and other sundry and necessary items a woman typically carries -- lip gloss, compact, etc. The inner-inner zip pocket protects other items like plastic, cards. It is a bonus that this beautiful bag is made out of a sustainable product, hemp! This one's a winner for the affordable price, efficiency, and fashion sense.

Would you recommend this to a friend? YES

8 PIN ADAPTER FOR IPHONE

VERIFIED PURCHASE

THESE ADAPTERS ARE PRETTY FLIMSY AND HALF THE TIME DO NOT ALLOW A CHARGE OR A FUNCTION TO HAPPEN WHICH IS UNFORTUNATE BECAUSE I HATE APPLE FOR THIER NEAR MONOPOLY OF THE SMART PHONE/TABLET MARKET BUT AS THE OLD SAYING GOES YOU GTE WHAT YOU PAY FOR

Would you recommend this to a friend? NO

Toy Smart Phone

VERIFIED PURCHASE

My little 2 year old great grandson just loves the touch screen feature. He always wants his mom's so this is a great alternative for him.

Would you recommend this to a friend? NO

Doe's what it was supposed to do

VERIFIED PURCHASE

I was pleased with this adapter. I received it in the mail quickly. The price was exceptionally less than what I expected to pay. I only wish I had bought two instead of one. If your lucky enough to drive a car with a cassette player then get one of these adapters to play your mp3 player or smart phone through it!!

Would you recommend this to a friend? YES

This charger is easy to use and does a great job.

VERIFIED PURCHASE

With all my devises using a USB cord, it seemed like the simplest solution to charging my smart phone, tablet, and iPod in any one of our cars. So I bought several, one for each car. They work exactly as I thought they would. Great price too!

Would you recommend this to a friend? YES

Shop Other Events