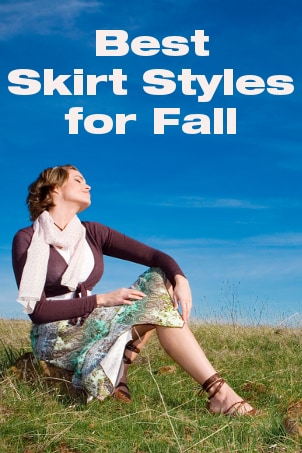 SHOP SKIRTS NOW >>
If you love wearing skirts, you can keep wearing them all year long as long as you choose the right styles and layer them for the weather. When you're online shopping for clothing for cooler weather, think about adding some heat to your wardrobe with one of these skirt styles.
The Best Fall Skirts:

The classic pencil skirt: The famous pencil skirt has a straight, narrow cut. The length can vary; however, it looks best when the hem falls just above or just below the knee. The pencil skirt can add a classic, professional look to any blouse, turtleneck, or sweater. This looks polished when paired with pumps or heeled knee-high boots. If you're looking for a new way to wear this look, shop for a leather pencil skirt.

The maxi skirt: This full-length skirt can be worn all year long, depending on what you wear it with. If you've been wearing it with a tank top and sandals all summer, switch the shoes for flats and add a cardigan. Or try wearing it with a button-down denim shirt and flat boots, and you can add leggings underneath when winter hits. If you loved wearing a lace tee with your maxi in spring, add a blazer to the outfit now to keep wearing it in the fall.

The mini: Yes, a mini! Mini skirts are no longer prohibited in the fall and winter months. Minis look their best when worn with a great pair of leggings, and the leggings will add color, texture, and warmth to your outfit. On top, wear a long-sleeve tee or sweater and finish off the outfit with a chunky scarf or a motorcycle jacket. Try wearing oxfords or ankle boots with this look.

A pleated skirt: Autumn brings back-to-school, and with that comes the pleated skirt. Pleated skirts come in a huge variety of designs; you can choose between minis, midis, and maxis. Mix and match different styles with the pleated skirt to create your own unique look. The most popular additions are over-the-knee socks with Mary Jane shoes and oxfords or thick tights and ankle boots.

Skirt suit: Every woman should have at least one skirt suit in her wardrobe. Skirt suits can make anyone feel successful. It offers you a way to stay conservative yet stylish. Skirt suits are great for the office, but they can also be worn at parties and social functions.

Shop Mid-Length Skirts
Shop Long Skirts
Shop All Skirts
See All Guides
Read More Clothing & Shoe Guides
Learn More about Women's Clothing