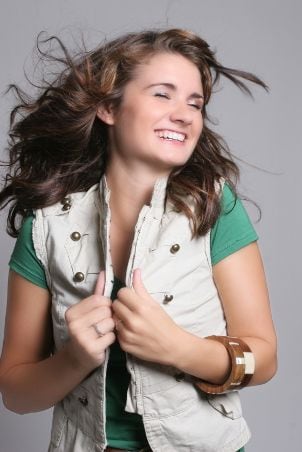 Teens often suffer from acne, dry patches and oily skin, so buying the proper skin care products is essential for preventing scarring and further skin problems. With so many skin care treatment options available, you may feel a bit overwhelmed and unsure of which skin care products will work best for your child. This guide will help you find the best skin care products for teens and provide you with the skin care tips you need.
Buying Skin Care Products:

Cleanser: Whether your teenager has oily, dry or combination skin, the first product you'll want to buy is a cleanser or scrub. Look for a formula that includes micro beads or exfoliating extracts as part of an oily skin care regimen; for sensitive skin care, you'll want to look for a creamy cleanser that doesn't have a lot of irritating chemicals or fragrances. If she has skin that's both oily and dry or has an oily "T-zone" (forehead, nose and chin), you'll want to find a cleanser meant for normal skin. Even the best skin care products can irritate skin, so it is important to cleanse with warm water and rinse the face thoroughly, especially as part of a sensitive skin care regimen.

Moisturizer: Even if your son or daughter has oily skin, moisturizer is an essential part of teenage skin care. Most cleansers, especially those with exfoliating beads, tend to dry out the skin, so teens will want to replenish their skin's natural oils to keep it from aging. To protect against skin damage, look for skin care that includes sunscreen; for oily skin, choose a light, oil-free moisturizer. Make sure to have a creamy moisturizer for dry skin and be careful choosing acne skin care products; you'll want to ensure that the skin care treatment doesn't clog pores or inflame acne.

Spot treatments: To treat sudden zits that flare up or heal breakouts overnight, your teen will want to have spot treatments on hand. Look for skin care products that contain benzoyl peroxide, which is a peeling agent that clears pores, or salicylic acid, which exfoliates the skin and neutralizes bacteria. These acne treatment options can irritate the skin, so only apply a small amount of these acne skin care products at first to be sure your teen is not allergic.

Sunscreen: One of the best skin care tips for your teen is to use sunscreen frequently. While many moisturizers contain sunscreen, she'll want to apply a formula with at least SPF 15 daily to prevent her skin from aging prematurely. If she'll be spending a lot of time in the sun, make sure she has a sunscreen with a high SPF that blocks both UVA and UVB rays. Sunscreen often contains oil, so be careful to look for a light, noncomedogenic formula, which means it won't clog pores, when buying oily skin care products. Some prescription acne treatments and over-the-counter acne skin care products can make skin more sensitive to the sun, so when teens use those products, they need to wear sunglasses and sunscreen outdoors and limit sun exposure.

Buy Skin Care Products
Back to Guides Directory