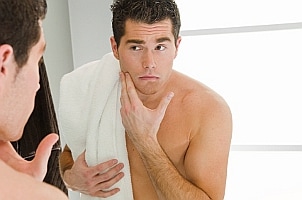 Men's hair has different needs than women's hair, so it's no surprise that shampoo specially formulated for men is carving out a niche for itself in the vast market of health and beauty supplies. Today, there are plenty of shampoo options that will leave you with clean hair and a healthy scalp -- without smelling like an herbal flower garden or tropical fruit medley. Keep reading to learn a little bit more about the best shampoo for men.
Best Men's Shampoo:

Organic shampoo: Infused with everything from ginger to lemongrass, organic shampoos will cleanse effectively with a subtle unisex scent. If your scalp needs extra care, try a mint shampoo infused with tea tree or peppermint oil that will leave your scalp feeling invigorated.

Designer shampoo: Look for designer shampoo in your favorite cologne scent when you want to smell good without coming on too strong. Designer shampoos can be used alone to create an understated signature smell that's great for day or with the coordinating cologne for a stronger scent that will last all night.

Thickening shampoo: Unlike shampoos for thinning hair, thickening shampoo won't promise to prevent hair loss. Instead, the main function of this hair product is to reduce the appearance of thinning hair by plumping up the strands of your hair. Thickening shampoos that are especially formulated for men can reduce the appearance of hair loss without unnecessary chemicals and false promises.

Purifying shampoo: For men who use a lot of product in their hair, a purifying shampoo will help strip away residue to leave hair cleaner and healthier looking. Purifying shampoo is not recommended for dry hair or scalps, since it can strip away more natural oils than regular shampoo.

Antibacterial shampoo: If you suffer from itchy scalp and dandruff, one of the best shampoos you can use is an antibacterial shampoo. Antibacterial shampoos eliminate the bacteria that thrive on your scalp and often cause flaking. Antibacterial shampoos also eliminate odor caused by the overproduction of skin cells on your scalp, so your hair will look clean and smell fresh all day long.

Buy Shampoos
Back to Guides Directory