Best Sectional Couches for Small Spaces
by Laura Leiva
Published April 29, 2010 | Updated June 12, 2015
Anyone who lives in a small space knows how hard it can be to fit a sectional sofa into an area that seemingly has no extra room. Large sectional sofas can leave your home feeling cramped. However, over the past few years, finding the best sectional sofa for a small space has become much easier. To begin shopping for a sectional couch, consider the number of people who will be seated regularly in order to determine the ideal size for the space, and be sure to measure the room where you will be placing the sofa.
Sectionals for Small Spaces: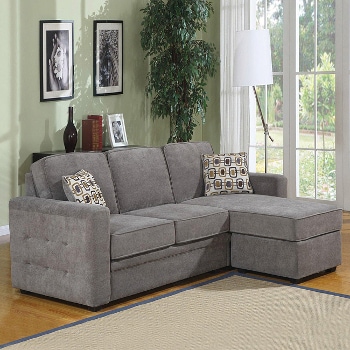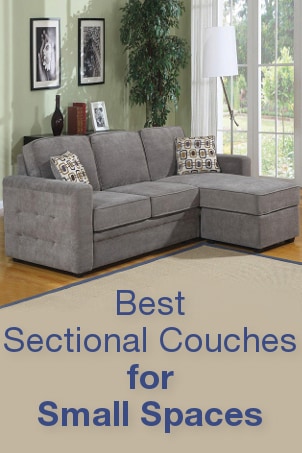 Shop Sectional Couches ▸
Armless Sectional Couches

Without arms to obstruct the view, this type of sectional gives the illusion of more space. One particularly attractive sectional style is simply a loveseat with a chaise but no armrests. This couch is elegant in design but simple enough that it won't detract from the rest of the room or take up extra space. These would look perfect in a modern style living room.

Three-Piece Sectionals

A three-piece sectional sofa offers seating for up to five people and often consists of a loveseat with an additional chair or chaise. While shopping online, check product descriptions to determine how many pieces are part of the set. When filling a small space, staying with three pieces or fewer will prevent filling the room with too much furniture.

Slim Sectionals

Couches don't have to have that overstuffed look in order to be comfortable. For a small room, look for a sectional that has a slim look. Modern or contemporary sectionals often have a leaner design, so you may want to shop for one of these styles. Add a few throw pillows if the couch feels too firm for your taste. You'll find slim sectional sofas in a variety of upholstery materials, including leather.

Reversible Sectional Sofas

This type of versatile furniture is the perfect addition for a small living room. Its ability to change its configuration is one reason it remains so popular. When you're craving a change or need a little more room just switch the lounge from one side of the sectional to the other. This makes it easy to add visual interest to your living room without overcrowding it.

Sleeper Sectionals

Sometimes when you live in a small space, you need your furniture to do double duty. A sleeper sectional can be your sofa and a bed, either for yourself or for guests, depending on how tight you are on space. Sleeper sectionals aren't very common, but it may be worth searching for one if your living quarters are small.