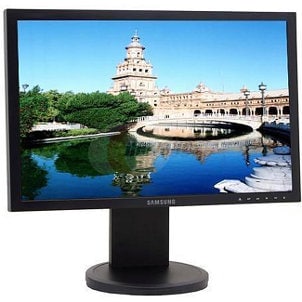 The right computer monitor can make a world of difference to your computer. Samsung LCD monitors are leading the industry in picture quality and image processing. And adding a widescreen LCD monitor to your computer setup may be just the thing to make your workstation into a multimedia entertainment and productivity center. Here are some of the best reasons to upgrade from your old CRT or LCD monitor to a Samsung widescreen monitor.
Samsung Widescreen Monitors:

It is perfect for home theater PCs: Adding a Samsung widescreen monitor to a home theater computer will provide you with stunning color and minimal motion-blur when you're watching movies and TV or playing games.

Widescreen is ideal for movies: Watching a film in the old 4:3 aspect ratio simply doesn't compare to the full letterbox version on a 16:9 ratio Samsung widescreen monitor. If your monitor uses the 4:3 ratio, the original image is enlarged and parts of the image may be cropped off. On a widescreen, you get the original theatrical version as it was meant to be seen.

HD capability: Streaming videos, TV and movies in high definition won't pay off without a Samsung widescreen monitor capable of displaying the content in full 1080p resolution. Samsung widescreen monitors are HD capable and ready to display Blu-rays and streaming video with amazing clarity and detail.

Connect to multiple devices: In addition to your computer, you may already have a good number of peripheral devices that you'll want to connect to your monitor. Samsung widescreen monitors are equipped with multiple connection options, including DVI and HDMI ports for high-definition devices like Blu-ray players and game consoles. With those connection options, your computer station can become your entire entertainment center.

Create the ultimate gaming station: There's nothing quite as immersive for a gamer as having the intense graphics and special effects of your favorite games come to life on a large Samsung widescreen monitor. The high contrast ratio and superior image processing will reproduce the most realistic and detailed worlds that your gaming machines are capable of.

Buy Samsung LCD Monitors
Back to Guides Directory