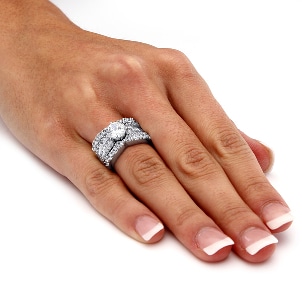 Cubic zirconia engagement rings are becoming a popular wedding jewelry choice. Cubic zirconias, also called CZs, are synthetic gemstones. The most popular of lab-created diamond alternatives, CZs look just like diamonds to the naked eye. Cubic zirconia engagement rings are beautiful, ethical, and affordable. Consider all of these reasons to shop for CZ engagement rings when you are looking at wedding jewelry.
Why CZ Engagement Rings?

Beauty: If you are looking for an engagement ring that has a large, sparkling, flawless stone, consider a CZ ring. Most cubic zirconias are clear, colorless gems without any discolorations; plus, they don't have the inclusions found in natural gemstones that detract from the appearance. Most CZ engagement rings are made of a lustrous precious metal, usually sterling silver or white gold, just like the diamond rings.

Ethics: If you are concerned about the global economy and your impact on the planet, then a CZ may be for you. Synthetic gemstones appeal to many couples who want an eco-friendly wedding and worry about the after-effects of mining for natural resources. When you choose a cubic zirconia ring, you can feel good knowing that the stone has not been harvested from a fragile environment.

Variety: Cubic zirconia stones come in a wide variety of colors and shapes, including the standard gemstone cuts. If you prefer traditional wedding jewelry, look for clear CZs in classic designs, such as the round-brilliant solitaire or princess-cut three-stone ring. If you are looking for a distinctive ring, CZs can offer you a myriad of choices. Choose a large green cubic zirconia stone for your engagement ring if you have ties to Irish culture or select a cubic zirconia that portrays the color of your birthstone.

Affordability: Cubic zirconia jewelry is typically more affordable than diamond jewelry. Large, flawless diamonds are rare and very expensive, but you can get a large CZ for much less than a diamond of a similar size.
What Do You Want to Do Next?

Shop for Cubic Zirconia Engagement Rings
Plan Your Dream Wedding
See All Guides
Read More Wedding Guides
Learn More about Wedding Jewelry