Best Reasons to Own a Latex Mattress
by Staff Writer
You may have heard about one of the hottest new trends in bedding: the latex mattress. It seems like everyone is considering a latex mattress for their next bedroom furniture purchase, and for good reason. Latex mattresses provide a variety of benefits to users, so it is no surprise that they have seen such a spike in popularity recently. Whether you are just learning about the rise of latex bedding or simply need a bit more convincing before you jump on this buzz-worthy trend, take a look at the article below. It will help you learn about some of the best reasons to own a latex mattress.
Reasons to Own a Latex Matress: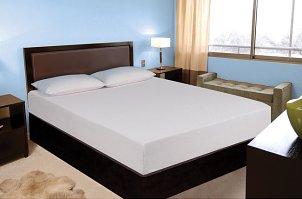 Shop Latex Mattresses ▸
Go green:

Easily one of the most popular reasons behind the demand for latex mattresses is their green qualities. Because latex is a naturally occurring, sustainable material, latex bedding allows you to sleep soundly knowing your bedding isn't contributing to environmental concerns. Latex mattresses are also often free of the risk of the chemicals and pesticides used in the manufacturing processes of other mattresses.

Get comfortable:

Of course, latex mattresses would not be given nearly as much attention if they weren't comfortable. If you are dissatisfied with the comfort provided by your current mattress, it may be time to give a latex mattress a shot. The natural characteristics of latex imbue this type of mattress with qualities that will help you rest and relax like no other. Similar to the conforming properties of memory foam, latex foam mattresses cradle your body and relieve pressure from joints while you sleep.

Choose hypoallergenic:

If you suffer from allergies, a latex foam mattress may be just the ticket to stop a runny nose and itchy eyes. Latex mattresses are free of many of the elements that can make allergies flare up, such as dust mites. Plus, debris like dander and hair has a harder time building up in latex mattresses. Should your current mattress be causing your allergy problems, consider throwing it out and replacing it with a new latex mattress, which will help you avoid allergies symptoms all night long.