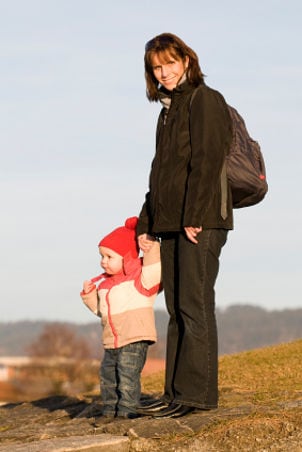 Babies and children require a plethora of baby gear for their care, and staying fully equipped while out and about with an infant or toddler will keep travel activities fun and easy. If you want a unique diaper bag solution, consider a baby backpack. Backpack diaper bags are fabulous for busy parents because they organize all of your little one's necessities and keep your hands free for cuddling and feeding. Baby backpacks are available with a variety of features and style choices, so you can have the diaper bag that will be perfect for your lifestyle. Consider the benefits of a backpack diaper bag when shopping for a baby bag.
Choosing a Baby Backpack:

Convenience: Hands-free travel is ideal when out and about with your baby. You can keep your arms free for breastfeeding your infant or adjusting your toddler's jacket when you wear baby gear on your back. Unlike some baby bags that must be toted along, diaper backpacks go with you without you having to think much about them. After all, you have more important things to worry about.

Style: Many things that come with a baby may not be fashionable, but diaper backpacks won't cramp your personal style like some traditional baby diaper bags can. Baby backpacks are available in a myriad of colors and designs, so you can choose one that will fit easily into your wardrobe. Baby diaper bags that are worn like backpacks are also perfect for hip dads.

Organization: Though most diaper bags are built with organization in mind, nothing is quite as put-together as a backpack. Baby backpacks are designed with pockets of all kinds, inside and out. Keeping your child's backpack diaper bag organized will be just like keeping your own backpack tidy. You will always know where everything is when you use a baby backpack.

Room for you: Baby backpacks are larger than many traditional diaper bags, and they offer various organizational choices. This means that you can easily take your own things along when you are traveling with baby. Keep up with your toddler by toting your travel mug filled with caffeine in your baby backpack side pocket or take your laptop along and get a little work done while your infant sleeps cuddled next to you.

Buy Backpack Diaper Bags
Back to Guides Directory