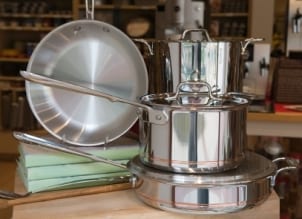 It's easy to whip up any meal when you have quality cookware sets to work with. Whether you prefer nonstick cookware or stainless-steel cookware for everyday meals, there are many benefits to investing in durable cookware sets for your kitchen. Read on for some of the best reasons to buy cookware sets.
Benefits of Cookware Sets:

Buying cookware sets will often save you money. Finding and purchasing individual pots and pans can be expensive, and you may have a hard time finding cookware pieces that match. Why not consider buying a 10-piece cookware set instead? These convenient sets usually include a stockpot, skillet, saucepan, saute pan and fitted lids and are often far more affordable than the sum of individual pieces. You can always buy cookware sets that include up to 22 pieces if you need more pots, pans and utensils than a 10-piece cookware set provides. Before you purchase any cookware, however, be sure that it is made of durable materials and that it includes pieces you'll use. Even the best cookware sets aren't worth the money if they don't contain the everyday pots you need.

Cookware sets save you time shopping for pots and pans. A durable cookware set that provides you with pans, pots, lids and even utensils is an exciting buy and saves you valuable time. While you may need to buy cookware items for specialized cooking to supplement your set, you won't need to spend your afternoon trying to find basic cooking tools for your kitchen.

Cookware sets are designed to be stored together. If you stack your pots and pans in a cabinet together, you'll love cookware sets for their simplicity and uniform designs. The best cookware sets will include pans that can be stacked inside each other and lids that fit on both saucepans and skillets. If you prefer to hang your ceramic cookware or nonstick cookware sets in the kitchen so that they don't become scratched, the uniform shapes will still make storage simple and save space.

Cookware sets are crafted of the same material. Whether you've decided to invest in ceramic cookware or buy stainless-steel cookware sets, you'll be able to present a clean, uniform look in your kitchen when each pan or skillet is made of the same material.

Buy Cookware Sets
Back to Guides Directory