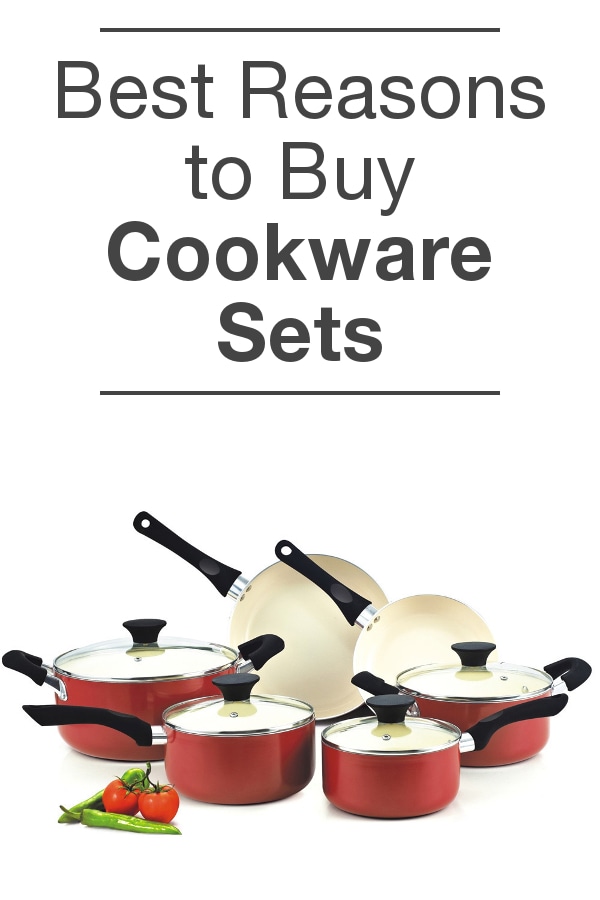 SHOP COOKWARE SETS NOW >>
If you're shopping for pots and pans, you'll need to decide if you want to buy a set or buy them individually. While many chefs prefer to shop for individual pieces, there are several reasons why you would choose to buy a cookware set for your kitchen. If any of these situations sound like yours, then buying a set is for you.
When to Buy a Cookware Set:

If you're setting up your first kitchen: If you're starting from scratch, you need a lot of different pots and pans. Why not consider buying a 10-piece cookware set? These convenient sets usually include a stockpot, skillet, saucepan, sauté pan, and fitted lids and are often far more affordable than the sum of individual pieces. You can buy cookware sets that include up to 22 pieces if you need more pots, pans, and utensils than a small cookware set provides. Before you purchase any set, however, be sure that it includes pieces you'll use. Even the best cookware sets aren't worth the money if they don't contain the everyday pots you need.

If you need an upgrade: Maybe you started your cookware collection with a few mismatched pieces, and now the pans are starting to warp, the nonstick surface is peeling off, and some cooked-on food just isn't coming off when you scrub it. It's time to treat yourself to a kitchen upgrade. A cookware set will be the fresh start you need to make cooking a more enjoyable experience.

If you have a favorite material: For some people, it's a modern ceramic nonstick surface. For others, it's classic, heavy cast iron. But if you have a cookware material that you are comfortable cooking with, then you'll love having a complete set of pots and pans made out of it.

If you only want to research pots and pans once: A durable cookware set that provides you with pans, pots, lids, and even utensils saves you valuable time. If you just want to research your preferred pots and pans one time, you can determine which material is right for you with our cookware buying guide, then purchase a whole set. You'll be all set to start cooking without further thought on the matter.

If you have limited kitchen storage: If you stack your pots and pans in a cabinet together, you'll love cookware sets for their simplicity and uniform designs. The best cookware sets will include pans that can be stacked inside each other and lids that fit on both saucepans and skillets. If you prefer to hang your ceramic cookware or nonstick cookware sets in the kitchen so that they don't become scratched, the uniform shapes will still make storage simple and save space.

If you want to display your cookware on a pot rack: If your kitchen design includes a pot rack, think about how you want all of your pats and pans to look. You'll see them all the time, so a matching cookware set, especially in a great color, will enhance the decor. Whether you've decided to invest in ceramic cookware or buy stainless steel cookware sets, you'll be able to present a clean, uniform look in your kitchen when each pan is made of the same material.

Shop Stainless Steel Cookware Sets
Shop Nonstick Cookware Sets
Shop All Cookware Sets
See All Guides
Read More Kitchen & Dining Guides
Learn More about Cookware
Published June 21, 2011
Updated March 20, 2015