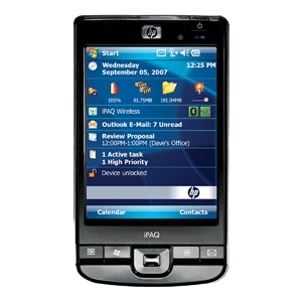 Electronics manufacturer HP has brought its expertise from the desktop, laptop, and printer sectors to hand-held computer technology. HP has released both the HP iPAQ PDA and the iPAQ smartphone. These hand-held PDAs and smartphones are ideal for use at home or the office as your mobile computing solution. Here are the best reasons to own an HP iPAQ PDA or smartphone.
Why Get an HP iPAQ?

You can choose from PDAs and Smartphones. There are advantages to both forms of the HP iPAQ. A PDA offers a larger screen with stylus control, allowing you to handle your contacts and schedule with precision. The smartphone gives you calling and texting. Both iPAQs offer wireless access to the Internet and a variety of electronic planner and office software capabilities.

Mobilize your office. Use your HP iPAQ to handle conference calls, reports, e-mails, and other office tasks from the palm of your hand. The HP iPAQ features a powerful processor, plenty of RAM, and expandable storage for memory cards. All this makes the HP iPAQ pocket PC a powerful mobile computer.

Use Wi-Fi and Bluetooth capability. There's no reason not to be connected, wherever you may be, as long as you have your HP iPAQ with you. With an iPAQ, you can browse the Internet, answer e-mail, and read the latest news and blog posts. Check to be sure that your wireless network and your iPAQ use compatible wireless signals. Bluetooth and Wi-Fi make it easier to print and share files with compatible wireless devices as well.

Enjoy a full-touch display. Navigating the operating system and programs of your HP iPAQ is easy with a large touch screen. Move through files, windows, and messages on your HP iPAQ with just the swipe of your fingertips. Touch screens allow for faster and more intuitive menu navigation and opens up additional control options for all of your programs.

Navigate with a built-in GPS. The built-in GPS combines yet another electronic device with your cell phone. With GPS functions, you can find businesses and addresses with turn-by-turn directions. The HP iPAQ provides you with instant directions, maps, and even live traffic data with certain data subscriptions.

Buy HP iPAQ
Back to Guides Directory