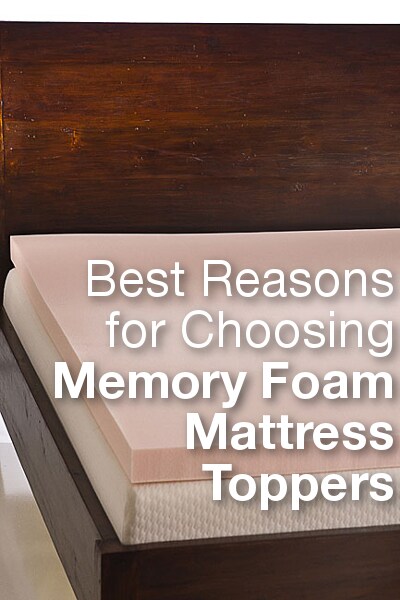 SHOP MEMORY FOAM MATTRESS TOPPERS NOW >>
While traditional spring mattresses are adequate for a lot of people, the unique properties of memory foam can make the difference between a good night's sleep and a great night's sleep. If you don't want to buy a whole new mattress, a memory foam mattress topper may be for you. Here are some of the best reasons buyers give for choosing them.
Memory Foam Mattress Toppers:

All the benefits of a foam mattress: A memory foam mattress topper has all the qualities that have made regular foam mattresses popular for years. Foam offers an evenly firm, buoyant sleeping surface that many sleepers find superior to regular spring mattresses. Also, foams used in mattresses are hypoallergenic, meaning they don't attract and harbor dust and mites like regular mattresses do. A memory foam mattress topper has these same great qualities.

Plus all the benefits of a spring mattress: If sleeping on memory foam sounds good to you, but there are certain things you like about a spring mattress that you don't want to give up, a memory foam mattress topper is a great choice. Memory foam mattress pads offer the softness and contouring properties of memory foam while maintaining the spring and full-body support of an innerspring mattress. You get the best of both types of mattresses.

With the amazing comfort of memory foam: There isn't another sleeping experience out there quite like memory foam. Memory foam was developed in the 1970s by NASA to support astronauts during launches. The secret of the material is how it softens with heat and then maintains a "memory" of any impression you make in it, molding to the contours of your body as you sleep. Sleeping on memory foam means that every point of your body bears the same amount of pressure -- no more tweaked necks or numb pressure points when you wake up in the morning.

At less than half the cost of a new mattress: A memory foam mattress topper is a great way to experience all the benefits mentioned above for less than half of what you would pay for an entire memory foam mattress. Also, because memory foam isn't supportive enough to form a whole mattress, even a full memory foam mattress is actually a few inches of memory foam on top of a thicker layer of firmer foam. A memory foam mattress pad that you place on top of a regular innerspring mattress offers you much the same thing as a full memory foam mattress: unparalleled comfort combined with back-saving support.

Shop Gel Memory Foam Mattress Toppers
Shop All Memory Foam Mattress Toppers
See All Guides
Read More Bedding Guides
Learn More about Memory Foam
Published July 27, 2010
Updated April 2, 2015