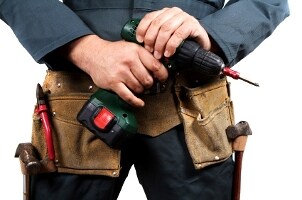 Stepping up from hand tools to power tools is a move that can save you a lot of time and energy. Power tools can also save you money by letting you do a home-improvement project yourself instead of hiring a contractor to do it. And it only takes a few tools to go from struggling with a job to getting professional-quality results.
The Best Power Tools:

Cordless drill: A cordless drill is likely the most often used power tool in a home. Almost any task that requires tightening, assembly or installation can make use of a power drill. Cordless drills are highly portable and are offered with enough power to drill holes in concrete. When choosing a drill, make sure to pick one with enough power for all your tasks and with a grip that suits your hand.

Circular saw: A circular saw gives you the ability to cut plywood, planks and trim for projects ranging from replacing door casings to building a deck. The use of mechanical guides with a circular saw provides the ability to cut large objects, such as plywood, while maintaining a straight line.

Air compressor: An air compressor is necessary for any homeowner who intends to use pneumatic tools. Air compressors provide the pressure for anything from paint sprayers to impact wrenches. Choose an air compressor based on the psi required by your pneumatic tools and a tank size based on the amount of time the tool will be used in continued operation. For example, a paint sprayer will benefit from a larger tank, while using an impact wrench likely provides downtime between uses for the tank to refill.

Table saw: For more precise woodworking or the ability to make mitered cuts needed for trim carpentry, a table saw is the best choice for your tool collection. A table saw is easiest and safest to use when placed on a sturdy stand.

Sanders: Power sanders come in models ranging from palm-size orbital sanders to large-scale belt sanders. Belt sanders are better suited to finishing furniture and cabinets, or sanding the planks of a wood deck. An orbital sander easily handles most home improvements or repair jobs. If your home-improvement tasks vary in scope, consider purchasing two or more sanders to handle a wide range of jobs.

Rotary tools: Rotary tools make finesse jobs a breeze. Rotary tools offer a range of attachments that can handle cutting, buffing and sanding on materials ranging from wood to metal to tile.

Buy Power Tools
Back to Guides Directory