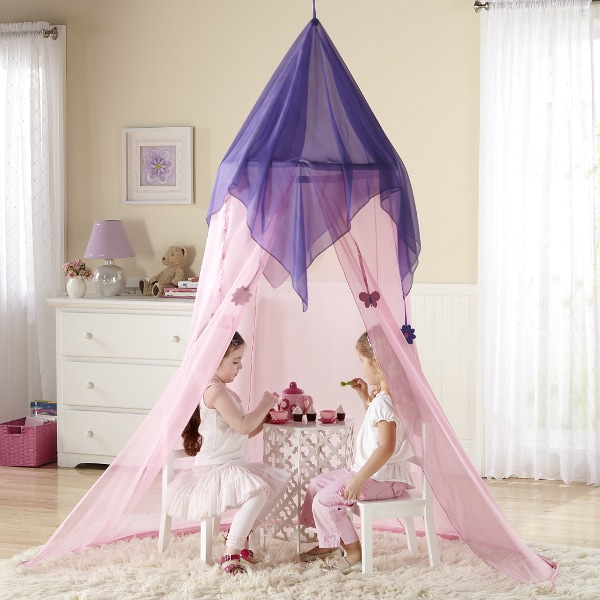 Best Play Sets and Playhouses for Christmas 2014
Pretend play helps kids express their feelings, lets them develop language skills as they create make-believe scenarios, and provides an opportunity for social development as they play cooperatively. It's important to let children direct themselves to get the most out of pretend play, but their creativity gets a jumpstart when they have the best pretend play toys. Kids will start engaging in pretend play at 2 or 3 years old, and most of these toys would be good Christmas gifts for kids ages 2 to 8.
Fort Kits, Play Castles & Teepees
It's a big world, especially when you're small. Teepees, tents, and forts are perfect hiding places for kids who need to feel like they're in a cozy place. Fort kits make it easy to build a structure that can be played in for hours. Fort sets usually include the pieces to make a frame, and then you can use blankets or sheets to cover it. Fairy tales are an important part of childhood, and many of those stories take place in a castle. With a play castle, kids can act out the charming prince, brave knight, and beautiful princess stories they know as well as create their own fairy tales where they are the central character.
Play Kitchens & Toy Food
Eating meals is a familiar part of any child's day, but they don't get to spend much time preparing the food. A pretend oven is a safe way for kids to test out the things they see you do. Pretend kitchens are also excellent for helping children learn about cooperation, sharing, and taking turns. Be sure to give a set of pretend food with the toy kitchen, so your child will have ingredients to "cook" for you to "taste."
Career Play Sets
Career exploration is an important element of pretend play. Toy doctor kits are one of the most popular career play sets, and playing with toy versions of the tools kids see at the pediatrician can help alleviate apprehension of the doctor. Pretend medical kits also let your children "treat patients" (their dolls, stuffed animals, and friends) which teaches them empathy.
Toy Workbenches and Tools
Pretending to be a worker is appealing game for many children, and it's good for them to learn how to manipulate tools, like simple screwdrivers and hammers. For younger children, you can suggest "building projects," like requesting a kitchen remodel, and then let them tinker away at their workbenches as they "build" for you.
Pretend House-keeping Supplies
Domestic duties may seem like a drag to you, but to a young child, it's a chance to experience the things they see you do all time. Pushing a toy vacuum around the room helps your child explore the adult world while feeling like they are helping.
Costumes
Playing dress-up can be a game on its own, or it can be a part of other pretend play. If you have another play set, look for costumes that will enhance it, like princess costumes to go with a play castle or a lab coat to go with doctor's kit.
what shoppers are saying about Play Sets & Playhouses at overstock™
Related product reviews

Arrived with a broken

VERIFIED PURCHASE

The first package arrived with a broken chair seat. Overstock arranged to send a replacement- and did not ask us to send back the original. That was good- because the second package arrived with a broken chair leg. Between the two packages, we were able to assemble a complete set. Clearly- the packaging isn't sufficient to protect the table/chair set in the mail.

Would you recommend this to a friend? NO

Great shelf!!!

VERIFIED PURCHASE

This shelf is for my son's room. I needed something that would hold the tv and his little knickknacks and be stylish. This serves that purpose. It is sturdy and a particle board shelf. I'm hoping it lasts several years to come.

Would you recommend this to a friend? YES

Randa

VERIFIED PURCHASE

My granddaughter loves it but will not sleep in it until we got her mini mouse sheets. It's narrow and open on the sides so there is no feeling of security for kids at age of 2

Would you recommend this to a friend? YES

Good play tent

VERIFIED PURCHASE

Nice tent for the price. Material is really thin and I ripped it a little putting it together but isn't noticeable.

Would you recommend this to a friend? YES

Cute but small

VERIFIED PURCHASE

Very cute but much smaller than expected. But you get what you pay for.

Would you recommend this to a friend? YES

Favorite Toy for all the children

VERIFIED PURCHASE

I own an indoor playground where this airplane teeter totter is the most played with toy. Everyone loves it. My children (2,5,and 8 years) all play with it. They have spent many hours pretending on this airplane. It is very sturdy and handles 7 children at a time on it with no problem. One word of warning though...assembly took a long time (I think it was about 3 hours of tedious work.). Even with the assembly, this is definitely worth it.

Would you recommend this to a friend? YES

Good value

VERIFIED PURCHASE

Great for little ones, durable plastic and no sharp corners

Would you recommend this to a friend? NO

Super cute!!!

VERIFIED PURCHASE

This is very similar to the PB one and is a fraction of the cost. My kids love it. I am really happy with this purchase and so glad I found here at overstock. The shipping was perfect. I purchased and it was here in my house within 4 business days. I totally recommend this item.

Would you recommend this to a friend? YES

Good quality

VERIFIED PURCHASE

My two boys love this table. My two year old has trouble moving the chair while sitting in it, because his legs are currently too short. My five year old loves having a table just for him and his brother. Light weight, so it's easy to move but sometimes too easy. I recommend this product.

Would you recommend this to a friend? YES

Play tent

VERIFIED PURCHASE

We purchased this little tent for our grandson. It's perfect for his pretend camping indoors. He also uses it while camping outdoors with mom and dad. It provides a sense of independence setting up his own tent. The sturdiness of this little tent gives him his own space to rest and play. Everyone commented about how colorful the tent is and yet very practical. Great addition for your family camping needs.

Would you recommend this to a friend? YES

Great fun!

VERIFIED PURCHASE

This cat scratcher has been wonderful! I have a big cat (12 lbs.) so I was very concerned about getting something that wouldn't wobble and fall over. I have it in a corner, and it's perfect. My larger cat is a bit big for the topmost platform, but he loves it up there anyway. The three cats take turns pretending they're kings up there : ). It wasn't difficult to put together, though it did take two people for me to do it - I have small hands and can't grip heavier things with one hand. There was one set of holes that didn't match up attaching the little wavy ramp, but we rigged it in about 15 minutes so it'd work. We didn't find it out until the very end though, so check that part first. It's very awkward to try to fix when it's all put together! The mouse came off after a week, but my cats are known for regularly tearing things to shreds instead of just playing with them, and they love using it as a normal toy now. They also love the sisal ball, but one of my cats decided to chew on it a little bit and cut up his gums so they started bleeding after about 30 seconds - watch that if you have chewers. They've loved it, and it's been wonderful! I would definitely buy it again.

Would you recommend this to a friend? YES

wonderful birthday gift

VERIFIED PURCHASE

My 4 year old LOVED this. He gave us shots for weeks and was able to show his daddy what happened when he got his real 4 year shots. I'm also very glad that this was not pink. I could not find one good for a boy in the stores. That might be due to Christmas because his birthday is 12/30 but I am not sure.

Would you recommend this to a friend? YES

Happy Customer

VERIFIED PURCHASE

This step stool is not only functional but a very attractive furnisher piece I am very satisfied with this purchase

Would you recommend this to a friend? YES

Big Tree, Great Price!

VERIFIED PURCHASE

This was a much better value than you can get at most pet supply stores, an excellent price for such a large, sturdy tree. It arrived at our door much sooner than we had anticipated, and according to my husband, it was very easy to put together. We set it up in front of a window. Mowgli, our big "man-cat," took to it immediately. He especially likes perching on the very top so that he can pretend he's stalking all those little "creatures" walking on the street below. We attached a feathery toy securely to the little ring under the perch so he can play. He also likes hiding in the nook, although he is way too big to be truly hidden. He just thinks he is. And speaking of Mowgli's size, the tree remains safe and sturdy no matter how rowdy he gets in his play. It's been great to have this tree during the snowy winter, it keeps him occupied on the days that it has been too cold to venture outside. I have only one teeny-tiny complaint, and it is a preference thing rather than a flaw in the product. Mowgli has not used the sisal scratching posts because he still prefers a carpeted surface for his claw-sharpening needs. We might have to wrap carpet remnants around the posts so he doesn't have to resort to using his little old scratching post. This tree would also be excellent for multiple cats or kittens.

Would you recommend this to a friend? YES

All parts were not included in package.

VERIFIED PURCHASE

This is a beautiful set. My daughter loved it for her 18 mos. old daughter. Only all the parts were not included. It has 4 chairs and they only had enough bolts to put 3 together.

Would you recommend this to a friend? YES

Dimensions are wrong

VERIFIED PURCHASE

This is a good bookshelf - quality isn't wonderful, but it works and it should hold. Set up isn't terrible too. However, the dimensions are wrong and are larger than they claim on the site. I needed it to be a specific size and unfortunately, it didn't work.

Would you recommend this to a friend? NO

I was hoping it would look real!

VERIFIED PURCHASE

I wanted this ring to look believable so bad, but it doesn't The diamond part looks very cheap and you can tell it's a 'pretend' diamond. In fact, it looks like play jewelery a little girl would wear. I'm too embarrassed to even try and pass it as the real thing. The band is actually believable because the stones are small. I like the band and it shines beautifully! I just don't want to keep the band since I can find it somewhere else for a lot cheaper. I won't give up on finding the perfect ring though and I'll even give Overstock another chance. I just prefer cz because I lost my real wedding ring and it's not worth risking a loss like that again!

Would you recommend this to a friend? NO

quality is still there.

VERIFIED PURCHASE

A good icon symbol Can help stimulate imagination to think outside the box to help deal with or even solve problems...sometimes.

Would you recommend this to a friend? YES

Beautiful and sturdy kitchen set

VERIFIED PURCHASE

This was an ideal kitchen set for my 2-year old daughter who is just getting into pretend-play and loves to mimic us. I love how this kitchen set has all the major components of a kitchen that she's familiar with. The overall structure is sturdy, and the doors close tightly. The only drawback is that the paint around the corners either came off easily during assembly, which was quite laborious, or it chipped during the shipping process. Either way, the paint seems to come off easily, so it would have been nice if it came with some touch-up paint.

Would you recommend this to a friend? YES

Kids love it and it looks nice too

VERIFIED PURCHASE

I bought this red kitchen and love it! Everyone that comes over comments how cool it is (it's sitting in the corner of my living room) and my daughter plays with it ALL the time (she's almost 3). The doors open and close really well, and there are lots of places for her to hide the food and pots and pans. And she also loves the play phone -- she's always pretending to talk to family members.

Would you recommend this to a friend? YES

Not a good purchase

VERIFIED PURCHASE

When we first received these towels I thought they looked great, but that changed right after the first wash. I had to cut strings hanging from the towels and lint kept falling off at every shake. After the second wash we had so much lint falling off we could play a pretend winter snow storm with our children. Overstock was very helpful with the refund process after the return and I hope that our next product purchase (Towels) will be a positive one.

Would you recommend this to a friend? NO


Shop Other Events