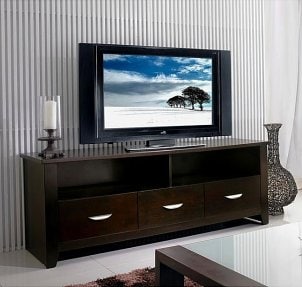 Let's face it. People spend a good deal of time looking at their plasma TV stands. Considering it is the piece of furniture that displays your most popular home appliance, the TV stand gets a lot of attention, and browsing for new plasma TV stands is an important task. There is no better way to turn any room in your home into the perfect gathering place for family and friends than to place a big screen TV at the head of the room, but you'll need television stands for all the big screen TVs in your home. When you are picking out a flat screen TV stand for any room, you have plenty of options. Here are some ideas on the types of television stands you have to choose from.
Best Plasma TV Stands:

TV armoire: For a full entertainment system that can both display your television and store your entertainment collection, a TV armoire can't be beat. TV armoires come with plenty of shelf space to store whatever you like alongside your big screen TV. Plus, when you are finished watching TV, you can close the shutters and put your television out of mind.

TV mount: A bit of a departure from classic television stands, TV mounts are the ultimate space-saver. If you like, you can place a small flat panel TV stand below your mounted television to store entertainment equipment. Another excellent benefit of TV mounts is that you can pick the perfect height. Instead of searching to find uncommonly tall flat screen TV stands, you can place the mount on any part of the wall you think would work best.

Classic TV stand: A classic flat screen TV stand is usually built like a low coffee table with a few shelves for a DVD player, video game console or other entertainment equipment. There is no end to the variety of TV stands, from glass to wood to metal. No matter what your personal style demands, you can find a plasma TV stand to fit your life. If you are short on space, you can even find a large selection of corner TV stands to fit in small spaces. A classic TV stand will take up less space than a larger TV cabinet, but it is more traditional than a TV mount.

Buy TV Stands
Back to Guides Directory