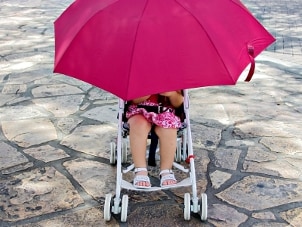 They're lightweight and handy, and umbrella strollers can make quick runs to the grocery store easier for parents and baby. While not all parents choose to use umbrella strollers, they can be very convenient, especially when you don't want to worry about the hassle of a standard stroller. Umbrella strollers give you an easy way to transport older babies and toddlers since this style of stroller is lightweight and convenient. The following tips will detail the best places to use an umbrella stroller so you can get the most out of your strollers at home.
Where to Use an Umbrella Stroller:

Running errands: If you're headed to the grocery store or the mall, packing a standard stroller in the car can be inconvenient, not to mention pushing them around in the store. Umbrella strollers, on the other hand, are much more convenient for running errands during the day. These lightweight strollers are portable, fold up easily and won't take up a lot of room in the car.

Around the block: Get some quality bonding time with your tyke and take him for a stroll around your neighborhood in an umbrella stroller. While umbrella strollers aren't built for serious exercise on rough paths, the way jogging strollers are, umbrella strollers perform just fine on sidewalks and are the most convenient choice if you're headed out for a short stroll.

Daytime outings: It's fun to take a break every once in a while and take your little one to the local zoo or aquarium. When you do, you may want to take an umbrella stroller along. These portable strollers are lightweight, easy to transport and give your child the best view a stroller can offer. Umbrella strollers are so light, they won't be as tiring to push around all day, and they're easy to maneuver as well, especially in a crowd.

Travel: When you travel, whether by airplane or car, you don't want to be burdened with bulky, heavy luggage. This includes your stroller. Instead, pack a lightweight umbrella stroller for the trip. These portable strollers pack up light and small, so you don't have to worry about overweight luggage. They're just as easy to unpack for a day of sightseeing.

Buy Strollers
Back to Guides Directory