Best Pillows to Reduce Snoring
by Amanda Mears

Snoring problems can range from mildly irritating to deeply problematic, but specialized pillows can often provide an effective solution. Depending on your sleep issue, a pillow tailored to open nasal passages and align airways can help you breathe easier without surgery or expensive equipment. Pillows for people who snore are created to address a wide range of problems that may cause or may be caused by snoring. To wake up feeling energized instead of listless, take a look at the best pillows to reduce snoring.
Pillows to Reduce Snoring: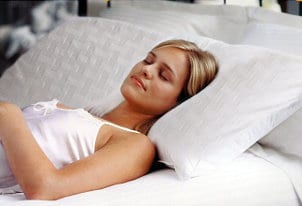 Shop Pillows ▸
Elevate yourself with a wedge.

Wedge pillows elevate your upper body and align your spine to make sure airways are not blocked. In addition, wedge pillows can often eliminate other health problems, like acid reflux, that lead to unsatisfying sleep. By combating two problems at once, the wedge pillow has gained a loyal following from people who want to finally get a full night of deep sleep.

Make sleep apnea less intrusive.

If your snoring problems are caused by sleep apnea, your doctor may have already recommended sleeping with an oxygen mask. To get a good night's sleep while wearing this mask, look for specialized pillows with indented sides that allow your CPAP mask to sit comfortably and stay secure throughout the night. No matter which side you sleep on, these pillows will help you forget about your CPAP mask and drift off to dreamland easily.

Sleep naturally with contoured pillows.

Pillows that are contoured for sleep are the result of years of clinical tests and trial studies. The raised center and shoulder indentions keep your head at the perfect height, while ensuring you stay in a natural sleeping position that is ideal for mild snorers and those with sleep apnea.

Support your neck with latex foam pillows.

For mild sleeping problems, try latex foam pillows. These pillows are firmer than memory foam pillows, providing a supportive sleeping surface that still contours to your head. Look for latex foam pillows with a gentle curve to keep your airways aligned when you sleep. Many people find that latex foam pillows help reduce the tossing and turning that can make snoring problems worse.