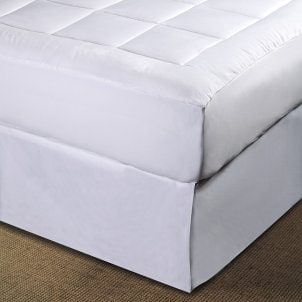 The key to a good night's sleep when you have chronic back pain is as simple as choosing a good pillow-top mattress. Choosing the best mattress involves knowledge of your personal needs and preferences. To get a comfortable night's sleep, start by choosing a pillow-top mattress made from the right materials for you. Next, choose your preferred thickness. Finally, have firm sleep support underneath the cushions of the pillow-top. Below, you'll learn the best pillow-top mattresses for back pain.

Choose the materials: Pillow-top mattresses are made from a variety of materials, so choosing the one that is right for you can make all the difference in the world. People with muscle pain should consider down pillow-top mattresses, which provide a cocoon to sleep in. Those with back issues will generally prefer memory foam pillow-top mattresses, which conform to the body and offer consistent support to areas like the lower back. However, it is important to check the manufacturer's information regarding the recommended weight allowances for these types of pillow-tops. Consumers who are heavier than the recommendations may find that the pillow-top cushion compresses in uncomfortable ways, leaving the mattress lumpy.

Determine the thickness: Pillow-top mattresses come in a variety of thicknesses, from just 2 inches to 8 or more inches deep. Like choosing the right materials for your pillow-top, choosing the right depth is vital to getting a good night's sleep. Thinner pillow-top mattresses will allow more of the support from the remainder of the mattress to come through and will not develop body indentations as pronounced as those in a deep pillow-top. Pillow-top mattresses that are too soft may fail to provide back support and cause an increase in back pain. However, deep pillow-top mattresses are excellent for customers who suffer from fibromyalgia or other chronic pain.

Check the warranty: Just as you would with any other purchases of its size, check the warranty of your pillow-top mattress. Most manufacturers will provide limited, pro-rated replacement warranties for manufacturer's defects, and some will provide a "comfort guarantee." Others may have specific conditions that must be met in order to maintain the warranty, such as having a boxed spring by the same manufacturer. Take note of any special conditions for the warranty and keep the paperwork.

View All Mattresses
Back to Guides Directory