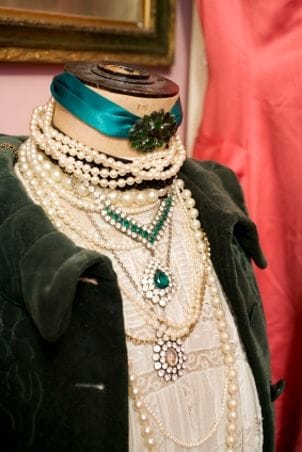 Long necklaces with large pendants are definitely one of the trendiest pieces of jewelry at the moment. Long chains and long strands of pearls have been gracing runways for several seasons and are probably at the top of your style list right now. If you're used to wearing pendants on short chains, then you may be wondering how to try this new jewelry trend. The key to wearing long necklaces stylishly is in the pendant selection. The right pendants can keep long necklaces from seeming like they are wearing you. Use this guide to choose pendants for long necklaces.
Pendants for Long Necklaces:

Large pendants: A long chain or strand necklace often needs a large pendant to balance the look. This is the perfect opportunity for you to proudly show off your personality. A large vintage gemstone pendant showcases your love of antiques. A big peace sign lets others know that you have progressive values. Pendants shaped like old-fashioned cameras, zoo animals and typewriters are fun and collectible. White gold swirl pendants covered in diamonds are fantastical. Hang large pendants on long chains, ribbons, beaded strands and leather strings to make a bold statement.

Charm pendants: If you don't care for large pendants, then make your own statement with several small pendants grouped together. Some pendants are designed to hold multiple mini charms. Many chains have large links so you can clip charms right onto the chain with ease. Choose from small charm pendants covered in diamonds, charms shaped like your initials and pendants portraying mythological creatures.

Brooches: If you have a brooch that is just hanging out in your jewelry box, bring it out to play by wearing it as a pendant. Vintage brooches look lovely on long chains and strands of pearls. Antique and estate brooches are often decorated with rare gemstones and period-specific designs, making them stand out in a world of cookie-cutter jewelry. If you don't already own an antique brooch, you can buy estate pins and wear them all on your favorite long beaded necklaces. Mix and match brooches and chains to create a large collection of unique and trendy jewelry.

Buy Pendants
Back to Guides Directory