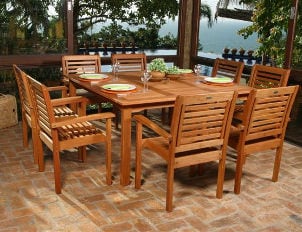 Create a retreat the whole family can enjoy when you buy a patio furniture set for your backyard. Whether you'd like plastic patio furniture that's durable enough for your children to use or wooden patio furniture perfect for teens and adults, the following suggestions will help you buy patio furniture that fits your style and allows you to entertain comfortably. Read on for tips on finding the best patio furniture set for your family.
Choosing a Patio Furniture Set:

Buy a patio set that is age-appropriate for your family. If you have young children or grandchildren who will be playing in the backyard, you'll want to buy a patio set that won't be easily damaged or difficult for them to sit on. A plastic patio furniture set is a great option, as it has smooth edges and is sturdy enough for both kids and adults; plastic patio furniture also comes in many different colors, which makes it easy to complement the style of your patio and your home. If you want something more formal than plastic, try wicker patio furniture. This type of outdoor furniture has a classic look and is lightweight and durable, due to its tight weave. While white wicker patio furniture is traditional and may be what you are used to, you can find wicker pieces in olive green, reddish brown, beige, black and even chocolate brown.

Find a patio furniture set that accommodates all of your family. Consider the number of people in your immediate family and those who visit often before buying a patio set. A wrought-iron patio furniture set that includes benches and at least four patio chairs can seat a large family comfortably, and you can always add a few bright cushions for extra color and comfort. If you would like to add more elegance, purchase wrought-iron patio furniture sets with reclining chaise lounges and loveseats; these pieces are also perfect for formal occasions, such as outdoor weddings.

Purchase a patio set that suits your family's personality and lifestyle. Make sure to buy patio furniture that fits the type of entertaining you and your family like to do. If you like to have casual get-togethers with neighbors, plastic or wooden patio furniture probably suits you best as it is simple and low-maintenance. Wrought-iron and other metal patio furniture pieces give you more of a polished feeling, perfect for fancier parties. Whatever your tastes, you'll want to buy patio furniture that your whole family will feel comfortable relaxing in during the spring and summer months.

Buy Patio Furniture
Back to Guides Directory