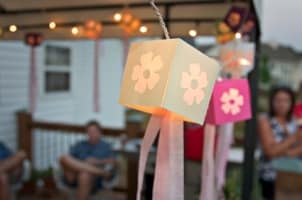 Throw a party that impresses all of your guests. Prepare your home or rented venue with the best decorative accessories for your party. Think about the occasion and the party space before you buy decorations and party supplies. For example, create a quiet and elegant setting for a dinner party, light up the garden for an outdoor barbecue or place a wreath on the front door as a festive way to welcome guests. Regardless of what type of party you're planning, the following decoration ideas will help you create a fun and relaxing atmosphere.
Get the Party Started:

Party lights: Decorative lighting immediately creates a party atmosphere. Candles, string lights, lanterns or garden lights create a soft, relaxing mood for your guests to enjoy. Candlelit centerpieces on a dinner table will make any dinner party more elegant. String lights on a porch or patio to make an outdoor birthday party more fun. Scented candles make a holiday soiree unforgettable.

Table linens: Table cloths and runners add a finished touch to a dining table or buffet spread. Place a beautiful formal tablecloth on your dining table to prepare for an elegant dinner party. Measure the length of your table or buffet before you purchase a tablecloth or runner. Also, consider the color palette of the room. White table linens go with any decor and are the perfect choice for formal events while bright colors and prints set the tone for casual gatherings.

Centerpieces: Centerpieces are a fun and creative way to make your party decor shine. No matter how formal or casual the party, from wedding rehearsal dinners to super bowl parties, table centerpieces add a lot to the decor. Centerpieces of fresh flowers are an elegant choice for formal parties while silk plants, balloons or novelty items work well for casual parties.

Seasonal decor: When decorating for holiday parties and seasonal events, the choices are limitless. Most holidays have the theme built right in, so it's easy to find the perfect decorations for your party. Whether you're going for a traditional or nontraditional look for your seasonal decor, start with lighting and table linens and finish the look with centerpieces and wreaths.

Buy Decorative Accessories
Back to Guides Directory