Best Outfits for Leggings
by Andrea Sparks
Published May 26, 2011 | Updated February 13, 2015
Comfortable, casual, and chic, leggings have become a staple in women's fashion. From multi-color printed leggings to basic black, every woman should have at least one pair in her closet. Casual pants are easy to pair with all wardrobe basics, and leggings are as versatile as they are comfortable. If you need outfit ideas, read this guide to learn what to wear with leggings.
Wearing Leggings: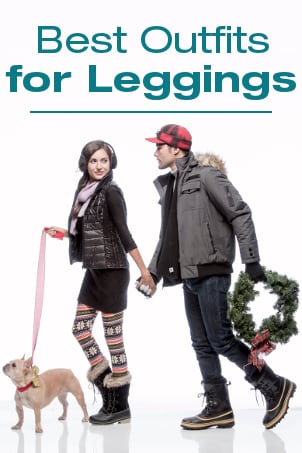 Shop Leggings ▸
Short dresses and skirts:

Give your summer dresses a cold weather makeover and your miniskirts a fresh new twist with a pair of leggings layered underneath. Leggings offer more coverage than tights and pantyhose, making them more appropriate for wear underneath short dresses and skirts. Choose printed leggings to highlight a neutral ensemble, or gray or black leggings to complement a bright frock.

Tunics and long tops:

Leggings transform into casual pants when worn with longer tops, such as tunics and oversize tees. Go for classic comfort with a pair of jeggings underneath a long white T-shirt and leather bomber jacket or versatile black leggings with a printed tunic. The key to wearing long tops with casual leggings is to choose a top that reaches upper to mid-thigh.

Bulky knits:

Contrast a chunky sweater or cable-knit sweater dress with a slim pair of leggings. By slimming down on the bottom, this women's clothing piece will help keep your cold weather outfit from feeling too bulky. When the weather is cold outside, look for warm knit leggings or thermal leggings to give your look a bit of warmth and comfort.

Boyfriend cardigans:

Modern and comfortable, boyfriend cardigans are the perfect complement to a chic pair of leggings. The longer length of a boyfriend cardigan fits perfectly with a pair of leggings and creates the popular larger-on-top look. Try a pair of dark wash jeggings with a fitted tank top and oversize boyfriend cardigan and you'll not only look stylish, but you'll also have a comfortable go-to ensemble.

Boots:

You can wear just about any kind of footwear with leggings, but nothing goes better with the look of slim pants than a pair of tall boots. Leggings are the perfect pants to wear with boots, since it's easy to pull a pair of boots on over fitted leggings. Try boots and leggings with everything from dresses to a long tank top.