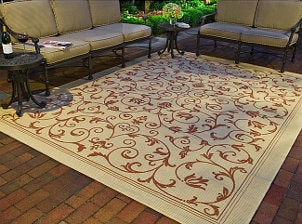 If you spend a lot of time on your porch, transform it into an outdoor living room with an area rug. Outdoor area rugs are made with water-resistant fibers that won't be ruined by heavy traffic or light moisture. In addition, these rugs are usually resistant to mold and mildew and treated to prevent sun damage. Durable outdoor rugs can make the ground outside a soft place to play by protecting your feet from splinters or small rocks, as well as pull together your patio furniture for a decorated look outdoors. Expand your living space out into the yard by picking out the best outdoor rug for your porch.
Best Outdoor Rugs:

For a wide patio: Dress up a paved patio area with a tropical-print area rug. Since patio spaces are usually large and flat, these bright rugs will fit well and instantly update your outdoor area. Place one under a patio set to catch crumbs and vacuum it after the meal is finished. Large outdoor rugs can also provide a play space for young kids while protecting them from dirt and germs. Set up a small table with padded floor cushions and host a family game night or bring your beanbag chair outside to enjoy the summer stars without worrying about getting it dirty.

For a wraparound porch: An oblong braided outdoor rug is the perfect companion to a classic wraparound porch. Styled to look like old-time rag rugs, these country classic accessories look right at home under an old rocking chair or porch swing. If your wraparound porch is decorated with shabby chic furniture, try a skinny rectangular rug with a neutral flower print.

For a small stoop: Replace your generic doormat with a stylish patterned outdoor rug. In smaller sizes, outdoor rugs make the perfect accessory for your front entryway. Place a trendy striped rug inside or outside your front door to keep guests from tracking in dirt. These small area rugs are easier to wash than rubber or straw mats and come in several different designs that will work in harmony with your home.

Buy Outdoor Area Rugs
Back to Guides Directory