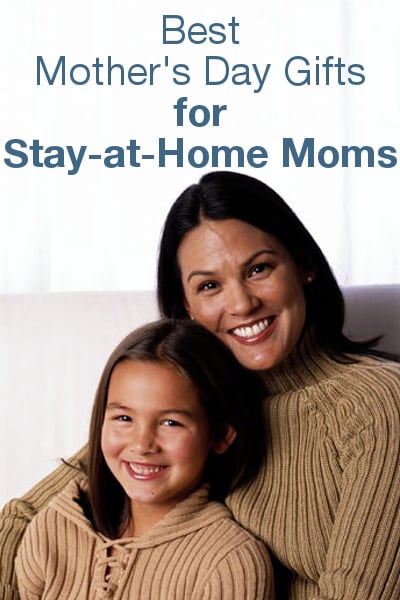 She's been there for your family every step of the way, and she probably made your bed for you more than you let on. If your mom or wife is a stay-at-home mom (and nearly half of the mothers in America are), show her how much you appreciate her with the best Mother's Day gift.
Gifts for Stay-at-Home Moms:

Give her home a little upgrade. Chances are your mom dreams of the day when she can have a new mattress, a better washing machine, and a nicer sofa in the living room. Find out if there's something specific your mom would love to replace, even if it's as simple as a new bathroom rug. If you're not sure what she needs or specifically what she wants, consider a bedding set or some state-of-the art cookware.

Improve her workplace. People who go to an office every day have access to things that stay-at-home moms don't. She doesn't stop at a favorite coffee shop every day on her way to work for a cup of gourmet joe, but maybe Mom would like a better coffee maker at home. She doesn't have an office supply closet full of everything she needs, but maybe she could use a new desk organizer or even project supplies for her kids.

Get her some alone time. Let's face it, stay-at-home moms spend a lot of time in the house, especially if they have young children at home. A little time for herself is probably at the top of her wish list this Mother's Day. Find gifts that get her out of the house for a bit, whether it's a day at the spa, a camping trip, or tickets to a movie or play. Gifts that let her enjoy some time alone are also welcome, like a meditation pillow, a fitness activity tracker, or a new yoga mat.

Surprise her with family portraits. A stay-at-home mom's number one priority is her family. As much as she'd love to get a family portrait done, getting all the kids dressed and ready for pictures can be a hassle, and sometimes it's just not in the budget either. This year, give her the gift of memories by getting the family portrait taken. If you really want to surprise her, take the kids for a day and get just their portraits done. You can wrap them up and give them to her in a nice photo album or digital picture frame on Mother's Day.

Buy something she wouldn't buy herself. So many moms put their family before themselves. That means that there's probably a cashmere scarf she would love or a handbag she's always wanted but would never buy herself. Surprise the mom in your life this year and buy her some of those luxuries she usually goes without. Gifts that make her feel beautiful and appreciated, like jewelry or perfume, are a great way to start, but pay attention to what she's had her eye on but just can't justify buying on her own. There could be a digital camera or laptop computer that she's been wishing for.

Shop Gifts & Flowers
Shop Mother's Day Gifts
Find the Perfect Gift in Our Gift Center
See All Guides
Read More Holiday & Giving Guides
Get More Mother's Day Gift Ideas
Published March 2, 2012
Updated March 3, 2015